Neolith
Neolith is a high performance, premium sintered stone surface brand manufactured by TheSize Surfaces. The durable, scratch, temperature and UV resistant material is created through a high-temperature, high-pressure process called sinterization. Neolith slabs have a near-zero porosity, creating a hygienic, stain resistant, easy to clean surface that is also impervious to chemicals.
Lightweight and easy to install, this low-maintenance product is suitable kitchen and bathroom countertops, flooring, interior wall cladding applications, exterior facades and other outdoor spaces, in both residential and commercial settings.
Neolith offers many benefits over natural marble. Its durability and creative properties allow architects to design unique spaces where brittle or porous marble traditionally pose a challenge.
An extensive network of distributors, architects, interior experts and designers in over 70 countries across the world use Neolith as the focus of their prestigious international projects.
Sustainability Statement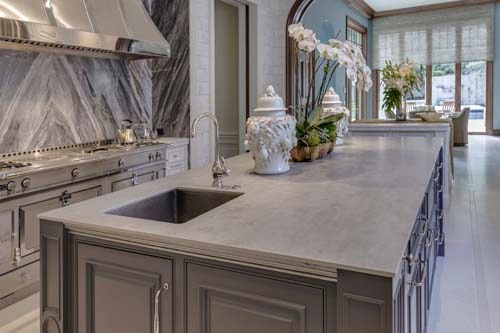 Neolith sintered stone gives designers and architects the ability to have striking designs that are equally as appealing to the environment.
Neolith products are comprised of 100 percent natural elements, with up to 52 percent of each slab composed of already recycled materials. Neolith's natural composition also enables the product to be 100 percent recyclable.
Neolith's thin, light-weight design uses few raw materials, decreasing soil erosion and is easier to ship in higher quantities, reducing CO2 emissions.
Neolith is a member of the U.S. Green Building Council, a LEED point earner, and is certified by: Greenguard, Greenguard Gold, and CE (European Commission).
Product Information
Neolith Beton Silk
Beton is part of Neolith's Fusion collection. Inspired by the essence of concrete, Beton aims to revise, harmonize and fuse the design with increased urban synthesis.
Inspiration and innovation come together to reinvent the construction material with a silk finish that evokes sensations to sight and touch by adding a light layer of enamel for subtle shine and a pleasant soft touch feel.
With a natural sophistication, Beton adds a refined industrial style to its surroundings with a fashionable design, above all technical characteristics – making it aesthetically pleasing, as well as, low-maintenance and virtual indestructible.
The Neolith sintered stone surface featured in The Flex House comes in several thicknesses (3 mm, 6 mm, 12 mm and 20 mm), three slab formats and three tile formats. A digital design process is used to imprint Neolith surfaces with visuals that range from quarried Italian marble to linen. The thin slabs require fewer natural resources, and their light weight makes them easy to transport and install. The material can be used in an array of applications, including flooring, façades and furniture. www.neolith.com