Parasoleil has developed a unique line of architectural metal panels to filter and sculpt light that are not only engineered to withstand the elements, but are profoundly artistic. They can be used to shade special architectural places and offer patterned nuance to structural detail or create visual breaks, barriers, and privacy. "It's about design that lasts, as long as it includes some shadows." - Uriah Bueller, Founder and CEO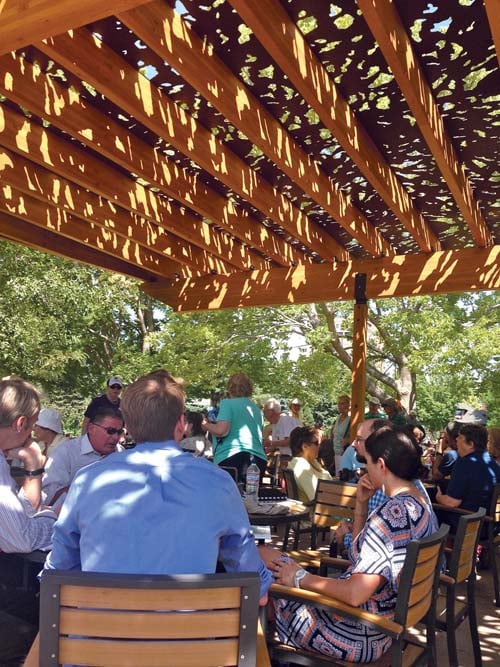 Patterned architectural panels from Parasoleil installed at the Denver Botanical Garden provide effective shading. They also create interesting shadows that change with the sun's path.
Made for the Shade
These guidelines can help designers choose patterned panels that let in just the right amounts of sunlight and fresh air.
Patterned architectural panels can be used for shading, privacy screening, railings or building façade treatments. Westminster, Colo.-based Parasoleil offers 36 standard patterns, and the company's designers can create custom panels. But some patterns may be more suitable than others, depending on the design objectives. For example, a pattern that creates an effective privacy screen may not be the best choice when the primary objective is shading.
To deliver the best product for each situation, Parasoleil has studied how the human brain perceives patterns, along with how different patterns interact with light and air. Here are some considerations for selecting a patterned panel for shading:
Openness. This characteristic refers to the percentage of the panel that has been removed. In general, a pattern with an openness between 15 percent and 25 percent allows air to circulate. It also provides sufficient shade control for areas that receive direct sunlight.
Airflow. When it comes to the comfort of exterior spaces, fresh air circulation is just as important as shade. A more-open pattern better facilitates air movement and heat transfer. A general rule for ensuring comfort of outdoor spaces is to increase the openness by 3 percent for every 10 degrees above 85 degrees F.
Distance. As the distance from the overhead structure to the objects being shaded below increases, sunlight tends to "wrap" around the edges of a patterned panel, shrinking the shaded square footage below it. To compensate for this spillover (and subsequent solar gain), panels installed over 11 feet above ground require a pattern that is 5 percent to 10 percent tighter.
Structure. This is the type of pattern that affects the distribution of light and airflow provided by the panel. A modular pattern consists of repetitive, self-contained units and creates a more uniform distribution of light and airflow. A continuous pattern is less predictable and random, and it doesn't appear to have a discrete beginning or end. This irregularity may cause some areas to be more shaded while leaving others more exposed.
Material. In general, aluminum or copper are the best choices for patterned panels used for exterior shade. Steel rusts, especially in damp climates, and water passing through the panel can potentially stain objects below. Rusting around the fasteners can compromise the integrity of the connection and potentially create an unsafe condition.