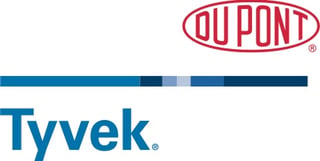 DuPont is at the forefront of the search for sustainable building solutions that improve comfort, reduce environmental impact, and enhance life around the world. However, we realize that DuPont products, people and science are only a part of the solution. Through collaboration with other manufacturers, we can deliver tested wall systems that offer industry-leading water, air and thermal performance.
When builders choose DuPont products, they get solutions that meet the highest performance standards and are backed by industry-leading building science, pioneering material science and unrivaled industry support delivered by The DuPont™ Building Knowledge Center and The DuPont™ Tyvek® Specialists Network.
Learn more at weatherization.tyvek.com.
DuPont™ Tyvek® HomeWrap®—the original house wrap—incorporates­ unique material science that helps keep air and water out, while letting water vapor escape. As a result, it can contribute to improved building durability by protecting homes against damaging wind and rain that can penetrate the exterior cladding. This can reduce home energy cost by controlling air flow and water intrusion helping the HVAC system work more efficiently and insulation to perform closer to its full R-value.