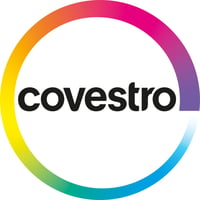 Covestro LLC
Covestro LLC is one of the leading producers of high-performance polymers in North America and is part of the global Covestro business. Covestro manufactures high-tech polymer materials and develops innovative solutions for building materials and many other products. Covestro's involvement with the Arc House project is part of the larger corporate commitment to improve people's lives and create value, while at the same time conserving resources and protecting the environment. As a part of its sustainability vision, Covestro set a goal to halve its carbon dioxide emissions by 2025 and energy consumption by 2030.
The Arc House also represents another key component of Covestro's mission - innovation. Product innovations from Covestro address current trends including climate change, the increasing scarcity of fossil resources, the growing global population, urbanization and increasing mobility. Through projects like Solar Impulse, Covestro is developing new materials and technologies that can be used not only for these noteworthy projects, but can also translate into improvements for everyday life.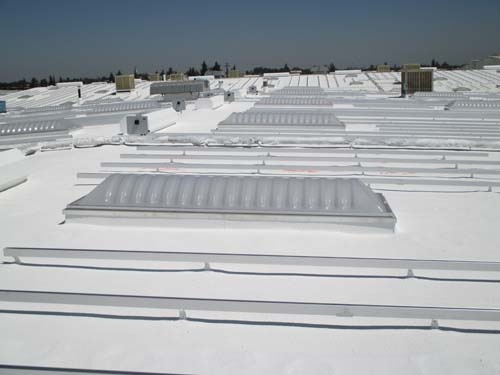 Illustrating the strategy of reducing demand before adding renewables, the completed SPF roof at the Bee Sweet facility awaits the installation of solar panels. www.polyurethanes.covestro.com
Designed for Performance
When it comes to optimized building envelopes, the whole is greater than the sum of its parts.
As green building has matured, the conversation has evolved past meeting initial "green" benchmarks and is now focused on building performance over the life of the building. State and federal codes are enacting more aggressive efficiency standards, and net-zero energy is now a realistic target for commercial and residential buildings.
As leaders in material science and research, Covestro has a long history of product innovation and sustainability. The company manufactures products specifically for the building envelope, which is a key component to achieving net-zero energy goals.
The Arc House demonstrates two of these products. Accommodating both the designer's net-zero energy goal and the building's elegant aesthetics required a hybrid envelope. Bayseal closed-cell SPF insulation plus Bayblock acrylic roofing membrane from Covestro, combined with polyiso board and plywood, curve gently over the home's arched lateral framing. The result is an ultra-tight, R-40 envelope. With the addition of solar panels, The Arc House achieves net-zero energy.
At the Bee Sweet citrus processing plant near Fresno, Calif., the owner needed a roof retrofit to deliver practical performance as well as outstanding energy efficiency. Covestro's Bayseal roofing foam and Bayblock HT coating sealed 88,600 square feet of leaking roof, while the addition of 54 new skylights and over 7,400+ solar panels resulted in 2,300,000 watts of PV electrical generation and substantial daylighting throughout the facility.
Systems that serve multiple functions, including optimized building envelopes such as these, can compound the performance benefits. In both projects, Covestro technical experts worked directly with key members of the project team, including owners, architects and contractors, to understand the performance goals and customize plans for reaching them. Astute design professionals understand that the road to net zero requires such an integrated approach.
Product Description
Covestro donated Bayseal® Closed-cell (CCX) spray polyurethane foam (SPF) insulation and Bayblock® elastomeric coating for the Arc House and provided building envelope consulting. Covestro products are key components for creating thermal and moisture protection, and as part of a net-zero energy usage solution. USI, a Covestro-accredited contractor, installed the insulation and fluid-applied roofing membrane.
Bayseal® CCX is a thermal, air, moisture and vapor barrier. Used with light-colored Bayblock® roofing membranes, these products can help provide 10-20% electricity savings due to offsetting solar hear gain on building roofs. Covestro SPF products are ideal to use with photovoltaic (PV) solar systems. SPF is self-flashing, effectively sealing penetrations through the roof substrate.