About
Panasonic is the premier manufacturer of powerful, energy-efficient ventilation fans that quietly exhaust unhealthy, unpleasant or moist air from your home or business. Contractors, builders, architects and homeowners rely on us for our quality and for the wide array of solutions we offer-from bathroom fans with both motion and humidity sensors to remote in-line fans. Panasonic has been in the ventilation business for over 100 years and is the largest manufacturer of ventilation equipment globally. Panasonic produces the highest quality, most efficient and environmentally friendly products available in the market today. Panasonic is known around the world for offering the quietest Energy Star fans in the industry!
Sustainability
Panasonic is proud to be recognized by the EPA for the fourth consecutive year, earning their most prestigious ENERGY STAR® honor, the Sustained Excellence 2013 Award. Sustained excellence is precisely what we strive for as evidenced by our legacy of providing high performance, energy-efficient ventilation solutions. In fact, for the past two decades-highlighted by our industy-leading quiet fans, revolutionary DC Motor technology, and leading-edge LED lighting-we've continued to demonstrate outstanding leadership, year after year.
Products in VISION House Tucson
WhisperGreen ENERGY STAR® rated ventilation fans incorporate highly energy efficient DC motors. These models come with variable 2-speed and delay timer controls built-in or as a single speed fan. A motion sensor model is also available. WhisperGreen is also available in lighted models and are ideal ventilation fans to comply with Green Building Indoor Air Quality standards. For more information on Panasonic ventilation systems click here.
The WhisperGreen LED with SmartFlow technology is designed to perform as rated and provide easier installation. When the fan faces static pressure, its speed is automatically increased to ensure optimal CFM output. The installer also no longer has to worry about compromising the fan's performance.
The WhisperGreen LED with SmartAction Motion Sensor also includes the SmartFlow technology but additionally has a built-in SmartAction motion sensor that automatically activates when someone enters the room.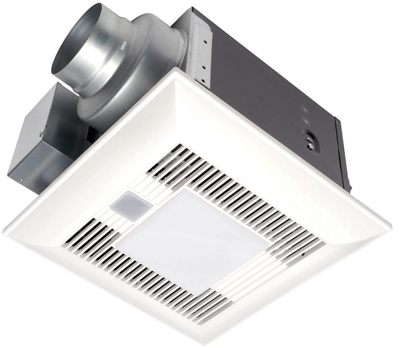 WhisperGreen LED
WhisperGreen Lite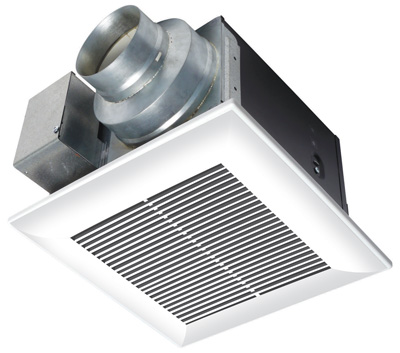 WhisperGreen