About
Boral Roofing serves both the commercial and residential customer looking to build sustainably. Boral offers a wide variety of environmentally sound roofing products with earth saving benefits that include:
Energy Efficiency
Heat Deflection & Cooling
Waste Elimination
Air Pollution Reduction
For additional information about Boral Roofing visit www.boralroof.com or call us at (800) 669-TILE (8453).
Sustainability
Boral manufactures sustainable building products that meets the needs of today's conscientious home buyers; products that provide healthy environments, energy efficient performance and have a lower impact on the fragile ecology. In providing customers with these products, the Boral manufacturing processes reduce the impact on the environment, minimize the consumption of natural resources and help eliminate waste in the manufacturing environment as well as on the jobsite. Boral is committed to sustainability. Boral is also committed to the North American construction industry; assisting builders, developers, architects and consumers achieve both design and function goals. The high quality products presented here all provide cost effective, durable and beautiful options manufactured in a carefully measured and earth friendly way.
Products in VISION House Tucson
Madera 900 Concrete Tile Roofing product in Autumnwood (1MDCL3002)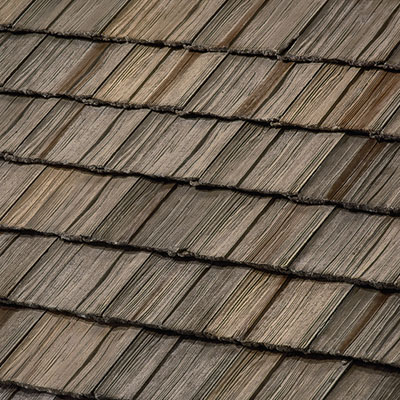 Madera 900 is the most affordable, authentic replication of a hand-split cedar shake roof available. With its realistic wood shake surface, Madera 900 will complement any architectural style.
Madera 900 is a Cool Rated Product
Reflectivity: .13
Weathered Ref (3 yr Aged): 0.15*
Emmisivity: .87
Weathered Em. (3 yr Aged):
SRI: 11
CRRC ID#: 0070
Seller ID#: 0942