Uponor has been enriching people's lives with comfortable, energy-efficient radiant floor heating systems, clean plumbing systems and dependable fire sprinkler systems for more than 35 years. At the heart of all our systems is durable, reliable crosslinked polyethylene (PEX) tubing, which Uponor proudly manufactures in the U.S.A. This flexible tubing helps convey water in the most efficient, effective manner to ensure our systems provide indoor as well as outdoor environments with the greatest benefits.

Our commitment to sustainable building includes the ongoing development of new technologies and innovative solutions that produce products and systems that have little or no negative impact on the environment. Our mission is to partner with professionals to create better human environments in both the residential and commercial markets while leading the way toward greater energy efficiency and smaller demands on the earth's resources. For more information about Uponor products and system solutions, visit
www.uponor-usa.com
or call (800) 321-4739.


VISION House Orlando 2011 Products
:
AquaSAFE™ Fire Sprinkler System
For the ultimate safety for your home and family, look to Uponor AquaSAFE fire sprinkler systems. Specifically designed for residential construction, this multipurpose system combines the fire sprinklers with the home's cold-water plumbing. This unique design eliminates the need for costly check valves and backflow preventers, along with the annual maintenance that accompanies them.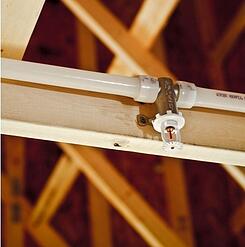 D'MAND

®

Hot Water Delivery System
Tired of the waste and wait for hot water at the tap? Add a D'MAND
®
Hot Water Delivery System to your home and the wait and waste is gone. The system is user-activated, which is more energy efficient than continuous or timed recirculation pumps, and D'MAND is the only system recognized by national residential green building programs, including LEED
®
for Homes, ICC-700 and WaterSense
®
.
Uponor AquaPEX
®
is the clean, healthy, lead-free alternative to plumbing systems. With resistance to corrosion, pitting and scaling and a connection system that eliminates the need for caustic solvents, glues and chemicals, Uponor AquaPEX provides your home and family with a plumbing solution that's good for the whole environment.