About
Panasonic is the premier manufacturer of powerful, energy-efficient ventilation fans that quietly exhaust unhealthy, unpleasant or moist air from your home or business. Contractors, builders, architects and homeowners rely on us for our quality and for the wide array of solutions we offer-from bathroom fans with both motion and humidity sensors to remote in-line fans. Panasonic has been in the ventilation business for over 100 years and is the largest manufacturer of ventilation equipment globally. Panasonic produces the highest quality, most efficient and environmentally friendly products available in the market today. Panasonic is known around the world for offering the quietest Energy Star fans in the industry!
Commitment to Sustainability
Panasonic is proud to be recognized by the EPA for the fourth consecutive year, earning their most prestigious ENERGY STAR® honor, the Sustained Excellence 2014 Award. Sustained excellence is precisely what we strive for as evidenced by our legacy of providing high performance, energy-efficient ventilation solutions. In fact, for over two decades-highlighted by our industy-leading quiet fans, revolutionary DC Motor technology, and leading-edge LED lighting-we've continued to demonstrate outstanding leadership, year after year.
Featured Panasonic Products

The NEW Panasonic WhisperGreen Select is a customizable vent fan for virtually any application. WhisperGreen Select is the ideal all-purpose IAQ Solution. Pick-A-Flow™ technology lets you select your desired airflow with the simple flip of a switch while a set of four remarkable Plug 'N Play™ modules allow you to further customize the fan. Select from Multi-Speed operation, SmartAction® Motion Sensor, Condensation Sensor and NiteGlow™ LED Night Light. WhisperGreen Select also features our revolutionary DC Motor with intelligent SmartFlow™ optimum CFM technology and our unique LED replaceable lamps. Our new Flex-Z Fast™ bracket system provides quick an deasy installation. WhisperGreen Select can also be used to comply with LEED for Homes, CalGreen and ENERGY STAR® for Homes 3.0.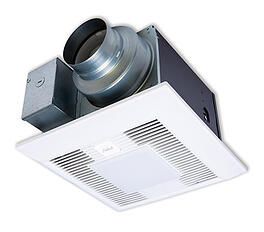 Panasonic WhisperComfort Spot Energy Recovery Ventilator (ERV) offers a revolutionary way to provide balanced ventilation. Affordable and easy to install, WhisperComfort is energy efficient and provides fresh ventilated air while maintaining Indoor Air Quality (IAQ). The WhisperComfort ERV features:
Spot balanced ventilation
Low-rate continuous run ideal for multi-family dwellings
Ideal for new air tight homes built to meet energy efficiency standards
UL listed for celing or wall mount installation
Exchange capillary core recovers heat, energy and moisture
Balances air pressure inside the house