About
DuPont Building Innovations applies building and materials science to solve emerging needs and create value for its residential customers. Its products include DuPont™ Tyvek® Weatherization Systems which offer the best balance of properties to help effectively seal the building envelope. DuPont™ Tyvek® building wraps and DuPont flashing products contribute to more sustainable, durable and comfortable structures by controlling air and water infiltration and allowing interior moisture vapor to escape.
DuPont products meet the highest performance standards and are backed by industry-leading building science and unrivaled industry support provided by the DuPont™ Tyvek® Specialists Network and The DuPont™ Building Knowledge Center.
Commitment to Sustainability
A Commitment to Sustainability Through Building Science – At DuPont. Our vision is to be the world's most dynamic science company, creating sustainable solutions essential to a better, safer, healthier life for people everywhere.
DuPont is at the forefront of the search for sustainable building solutions that improve comfort and help reduce environmental impact. To accelerate our efforts, we created The DuPont™ Building Knowledge Center where DuPont building scientists and residential and commercial construction professionals can evaluate weatherization solutions and collaborate on new ideas that will lead to construction practices that will yield more energy-efficient and durable structures.
For more information click here.
VISION House at Mariposa Meadows Products
DuPont™ Tyvek® DrainWrap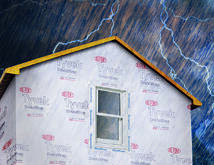 DuPont™ Tyvek® DrainWrap™ combines the superior air and water resistance and vapor permeability of Tyvek® HomeWrap® with a vertically grooved surface that's designed to provide enhanced drainage. Use it behind fiber cement, primed wood siding and other cladding systems that require enhanced drainage in areas subject to extreme, wind-driven rain.
Where used: Aspen Cabin, Garage Studio, Atrium Duet
DuPont™ Tyvek® FlexWrap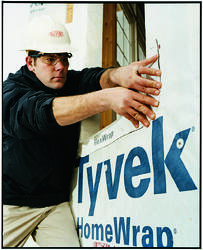 DuPont™ FlexWrap™ NF and StraightFlash™ are self-adhered flashing products made with DuPont™ Tyvek® and a 100% butyl adhesive layer. When used as part of a system, these durable flashing materials help protect the heads, jambs and vulnerable corners of doors and windows where water damage is likely to occur.
Where used: Entry doors, Garage door on garage/studio, Patio door on Atrium duet, Storm door on Atrium, Windows
Other Highlighted Product from DuPont
DuPont™ Tyvek®ThermaWrap™ R5.0
DuPont Tyvek ThermaWrap R5.0 offers the industry-leading Tyvek® HomeWrap® combined with a blanket of continuous insulation. The result is a weather barrier that helps protect a home from air and water and delivers an R-5 insulation value. Tyvek® ThermaWrap™ R5.0 is breathable, so it allows any moisture that may get inside the wall to dry and escape to the outside, helping to prevent accumulation of water in the wall and reducing the chance for water damage and mold.