About
Gaggenau is a manufacturer of high-quality home appliances "Made in Germany" and an innovation leader in design and technology. With more than 300 years of history, Gaggenau has revolutionized the kitchen again and again with its internationally acclaimed products. Gaggenau's success is based on technological innovation and a clear design language combined with perfect functionality. Gaggenau has been a subsidiary of BSH Bosch und Siemens Hausgeräte GmbH in Munich since 1995 and is currently represented in more than 50 countries with flagship showrooms in major cities around the world. In 2010, Gaggenau reached sales of more than 150 million euros. The difference is Gaggenau.
Putting environmental responsibility into action
As the world's third-largest home appliance manufacturer, BSH is well aware of the vital role it is able and indeed obliged to play in climate protection and responsible globalization. The advance of climate change is a compelling argument in favor of exploiting all the energy-saving potential at our disposal. As home appliances make a considerable contribution to household energy consumption, BSH can play a special role in conserving resources and protecting the environment with its products.
Energy Efficiency
"One of BSH's central concerns is the development of energy efficient and environmentally friendly home appliances. This approach will not only safeguard our competitiveness, but also the jobs of our employees worldwide. At the same time, we are making a meaningful contribution to the efficient use of resources and to climate protection." -Dr. Kurt-Ludwig Gutherlet, CEO of BSH

Since its inception in 1981, Purcell Murray has gained the reputation as California's premier distributor of quality kitchen appliances and decorative plumbing. With product distribution for ten luxury brands, these products have transformed countless kitchens and added value to homes across the state. For more information visit www.purcellmurray.com.

Visit your local Ferguson Bath, Kitchen and Lighting Gallery to find everything you need to remodel your kitchen, bath, or entire home—and the trained consultants to help with any taste or budget. For more information visit www.ferguson.com.
Featured Gaggenau Products in VISION House Los Angeles
BO 280 30-inch single oven in stainless steel: The BO 280 provides 17 heating modes for all cooking needs to assist in the perfect preparation of a wide variety of gourmet meals. The oven interior is covered in Gaggenau's signature easy-to-clean, durable blue enamel.
BS 280 30-inch Combi-steam oven in stainless steel: Gaggenau revolutionized the home kitchen with its introduction of the Combi-steam oven, which combines the benefits of the locked-in moisture of steam with the even cooking power of convection. Precise temperature and moisture control takes the guesswork out of preparing perfect dishes.
WS 282 30-inch warming drawer in stainless steel: The WS 282-710 has four settings and temperature ranges from 140°F to 200°F; offering maximum control and making preheating plates, keeping food hot or reheating meals simple. The base plate heating function allows one to fully preheat cups and plates, and reheat dishes and hot drinks efficiently.
CM 210 coffee machine: The CM 210 creates the full aroma of freshly brewed Italian-style coffee by utilizing its unique conical grinding gear of hardened steel, together with Gaggenau's exclusive Aroma whirl brewing technique, to ensure distinctively flavorful coffee every time. Single portion cleaning after each cycle guarantees authentic aroma and purity.
Vario 400 Pro Series VI 421 induction cooktop: The stainless steel VI 411 induction cooktop features a unique glass ceramic surface that stays cool and a large induction zone that utilizes electronic control with an output level of 3,500 Watts. The induction zone has low to high power variability and pot detection capability delivering excellent results.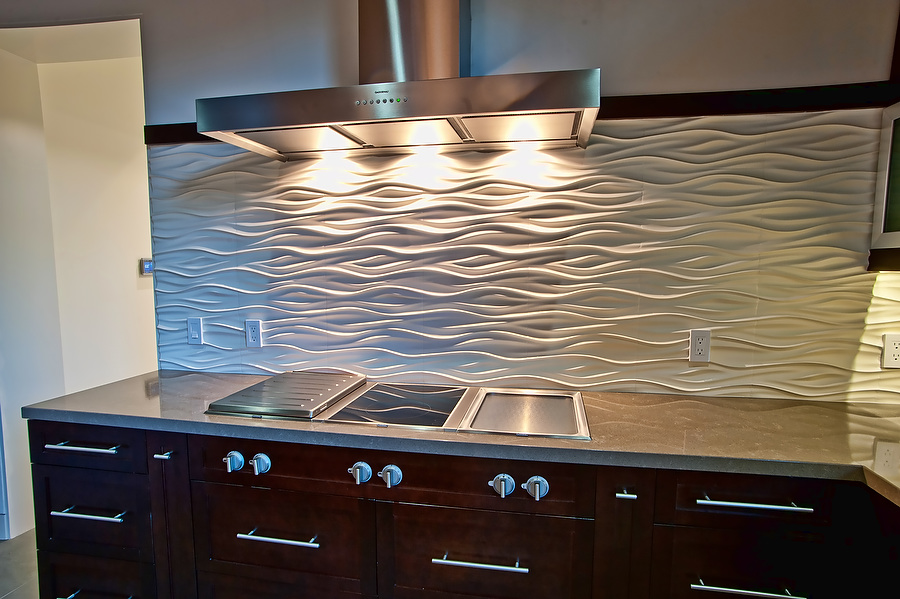 Vario 400 Pro Series VP 421 Teppan Yaki cooktop: Yielding 1,800 Watts of power and a precise temperature-controlled cooking zone – it is adjustable from 240°F to 480°F – the Teppan Yaki allows precise temperature regulation over the entire surface. It smokes, simmers or warms food with an even distribution of heat for optimal control with extraordinary results.
Vario 400 Pro Series VG 421 gas cooktop: This two-burner cooktop features a high output and a standard output burner, each with two flame rings for all types of cookware. The fully electronic system ensures heat can be precisely controlled and reproduced.
Vario 400 Pro Series VK 411 in-counter steamer: Features precise temperature control, two cooking trays, a contoured glass lid and a motorized water drainage valve that can be connected to a direct outlet. The heating technology boils water or stock in the shortest time possible, and a pressure-less steam system leaves essential nutrients in food intact.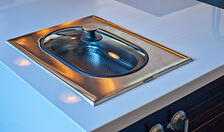 AW 400 wall-mounted ventilation hood: Gaggenau's most powerful ventilation hood is a visual treat that is extremely quiet and efficient thanks to its rim extraction filter. It features three output modes and an intensive mode, which automatically reverts to the previously selected mode after a few minutes.
RC 472 30-in refrigeration column: Gaggenau's dynamic cold air distribution system with Multi-Air-Flow ensures an even temperature distribution throughout the cooling compartment at precise, constant temperatures. Its stainless steel interior, combined with glass shelving and aluminum door bins is extremely hygienic and uniquely attractive when illuminated by the generous lighting concept.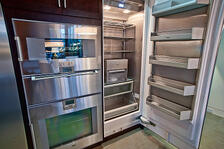 RW 414 18-inch wine storage unit: Combining the utmost in preservation technology with sleek European design, the column maintains the optimum environment for all wines. It features two separately adjustable temperature zones, which can be used for red and white wine or for long-term storage and the storage of wine at drinking temperature concurrently.
BM 281 Combi-microwave oven: With a design to match the 200 series ovens, it offers the combination of a microwave, a grill and an oven, and includes various possible modes of operation.
DF 261 Power dishwasher: Via Gaggenau's Aqua Sensor technology, the dishwasher determines the load and degree of soiling and optimizes water temperature, water quantity, and length of washing cycle accordingly. The Power Boost program enables a quick wash in 59 minutes, even with a full load of dishes.