About
DuPont Building Innovations, a strategic business unit of DuPont, brings dynamic science to the discovery and development of innovative products and services for residential and commercial construction. DuPont Building Innovations helps residential and commercial builders, architects, general contractors, engineers and their teams determine the best, highest performing solutions that meet the unique needs of their projects. From DuPont™ Tyvek® Weatherization Systems to DuPont™ Corian® solid surfaces, DuPont™ Zodiaq® quartz surfaces and more, DuPont Building Innovations is committed to increasing the performance of building systems and creating more sustainable structures.
For more information visit www2.dupont.com/Residential_Construction/en_US/.
VISION House in INNOVENTIONS Products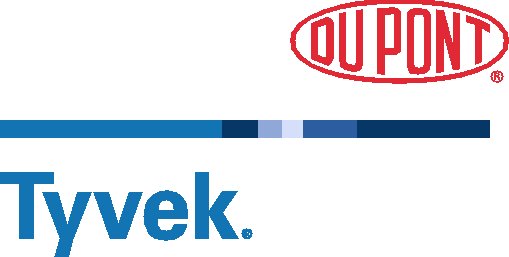 DuPont™ Tyvek® HomeWrap® delivers the optimum balance of properties for superior performance against the elements. Tyvek® HomeWrap® helps prevent outside water and air from entering the walls but is breathable so any moisture vapor that does get into the wall can escape, helping to reduce the risk of mold and wood rot while improving energy efficiency.

Tyvek HomeWrap helps improve the energy efficiency of a building in 2 keys ways. 1) by reducing air leakage, helps HVAC systems run more efficiently reducing energy bills. 2) by keeping water out of the wall, Tyvek helps keep insulation dry. Wet insulation will perform at well below installed R-value.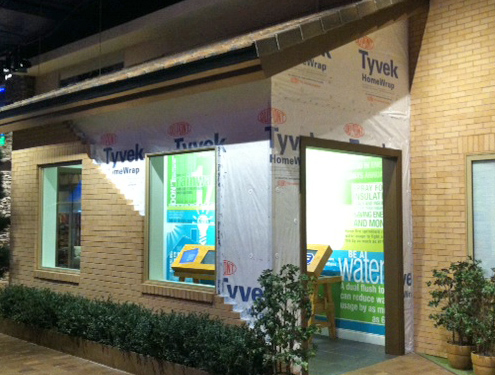 Zodiaq® quartz surface brings the best of nature and science to the best of contemporary residential and commercial design. Engineered with pure quartz crystals, beaming with diamond-like radiance, Zodiaq® surfaces are visually striking — and utterly unique. The sparkling crystal within Zodiaq® quartz surfaces balances stunning light-play with mesmerizing depth. Long-lasting and GREENGUARD Certified® as a low-emitting material, Zodiaq® surfaces are a high-performance material, delivering strength, and heat and scratch resistance. Homeowners and designers the world over choose Zodiaq® because this remarkable surfacing material elevates kitchens and baths with the timeless beauty of quartz crystal. For more information click here.

DuPont™ Zodiaq® quartz surfaces feature a Terra Collection, made from at least 25% post-consumer recycled content. The colors of this collection are as modern as the way these surfaces are created and can be used in a variety of commercial and residential applications. Zodiaq and its adhesives also meet emissions guidelines for volatile organic compounds, and are low-emiting, and non toxic and nonallergenic for humans. Zodiaq is GREENGUARD Indoor Air Quality Certified®.