Presenting at the Tiny House Jamboree in Austin, Editor-In-Chief Matt Power suggested a seldom considered approach to code compliance.
ON THURSDAY, the tiny house industry, an alliance of DIYers, small builders, mobile home park developers and so on, were presented with a new angle on tiny homes.

"I wanted to find out if it's possible to build a tiny home that weighs half as much, yet still meets the IRC 2018 Code," says Matt Power, Editor-In-Chief of Green Builder magazine and CodeWatcher, a digital publication.

What Power found was that in some aspects of construction, accomplishing both goals is easy. For example, by switching out two layers of 3/4-inch plywood for a lightweight RhinoKore honeycomb product, Tiny House floors could be reduced from 647 lbs. (not including trailer), to about 326 lbs total. Trailers themselves are necessarily heavy, but aluminum ones do weigh about 15% less than their steel equivalents.

Insulation-No Magic Bullet
When trying to create a lighter envelope, however, things get more complicated. "There is no easy way around the R-Value requirements in the IECC, in terms of reducing weight," Power explains. "In Zone 6, for example, you need R-20 in the walls and R-49 in the ceiling."

Each insulation material is part of a system, he explains, so none is dramatically lighter than the others. Fiberglass is very light, but when you add in the necessary 6-inch framing to achieve R-value, you're back on a par with SIPs and spray foam weight.

What's the lightest "alternative?"

"Probably fiberglass-faced SIPs," Power says. "One of the tiny home builders in the audience just finished a home weighing 6,400 lbs, using these. That's about two tons lighter than most tiny homes I've seen."

Impossible Trade-Offs
What about trading off R-Value for other energy efficiency measures? Could a home built with R-8 SIPs, for instance, achieve IECC compliance if HVAC was more efficient, or solar panels were reducing its demand for energy?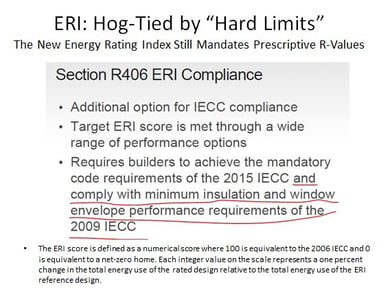 "You would think so, right?" Power snips. "But unfortunately the present deck is stacked against doing this. These are tiny homes, for crying out loud. Most of them are net zero, even when they're built badly.

"What you've got are what are called "hard limits" built into the various paths toward code compliance. You can't use the prescriptive path. That mandates insulation levels. But you also can't (easily) use the performance path, because it looks for certain U-values in a wall's thermal performance. And the u-values roughly equate with the same R-Values as the prescriptive code. I think it would work out to about R-16 for the R-20 wall. Then there's the new Energy Rating Index, which on its surface looks very promising."

Looks are deceiving, however, he explains.

"ERI, for example, limits how much solar energy you can put into the trade-off equation. The intent was probably to keep unscrupulous builders from building lousy envelopes and compensating with big solar array. That's excessive, especially for tiny houses. Why limit where and how you balance energy production and use? If you can hit net zero, who cares how you get there?

Focus on Life Safety
One caveat, Power adds, is that building need to be safe. Good egress, safe wiring and general fire safety. That should really be the "hard limit" of how a tiny house achieves IRC/IECC code compliance.

"It's tough to get the weight of a tiny home down to 5,000 lbs or under, which is where I'd like to see them, so that they can either sit on a foundation, or be pulled with a Dodge Ram 1500 truck. But I don't think it's impossible. And the advantage would be that any municipality using the IRC could easily get its hands around what a tiny house is, and the fact that it meets all of the essential life safety and efficiency codes.