Confined by archaic zoning laws and overzealous subdivision rules, compact homes need to be set free and seen for what they are: the last, best hope for affordable, flexible ownership.
Too often, the more-affluent minions of the mainstream media don't seem to"get" or even like the tiny house movement. In their world of gated communities and three-car garages, living small represents a threat—a nose-thumbing at the status quo of suburban living. Who could possibly live in a house smaller than Kris Jenner's pool cabana? Forbes magazine, for example, whose average reader is 47 years old and makes about $94,000 a year, calls tiny homes a fad that is "wildly impractical" and "won't be around for long."
The numbers say they're wrong. A new market report from Technavio, for example, says the global tiny homes market will continue to grow at a compound annual growth rate (CAGR) of approximately 7 percent from 2018-2022.
Business Wire offers a more-honest assessment of the motivators of tiny living, explaining that "a key factor driving the market's growth is the cost-intensive construction of conventional houses. The demand for tiny homes is mainly driven by the high cost of conventional site-built homes. The prices of the latter are increasing at rates higher than the increase in the income levels of people, which is encouraging customers to opt for tiny homes that are less expensive living solutions than constructing a house."
The Current Housing Landscape
America has a housing problem. A big one. The 1950s dream of a big house in the suburbs has receded out of reach for most people.
On one hand, that might not be a bad thing. Greenfield development is notoriously resource intensive. It wipes out ecosystems and often doesn't deliver the promised happiness to its auto-dependent, energy-intensive new residents. Also, the cost of building a new home keeps rising as the double whammy of high land prices and cost-raising political actions­—such as President Trump's lumber tariffs on Canadian softwood—ripple through the building industry. Labor is also a huge problem. Much of the nation's new housing stock rests on the guarantee of reliable, low-cost immigrant labor. But skilled immigrants are lying low, understandably shaken by the politics of division and family separations.
Tiny houses offer a partial solution to some of these social and economic problems. But they've been hamstrung by a frustrating maze of zoning, building codes and homeowner association (HOA) rules.
Here's the problem: If you don't already have a site-built house on property you own, there's often no place you can legally put a tiny house. Even if you own an empty parcel, many townships and HOAs have rules about minimum square footage.
Further confusing would-be-owners: These rules apply differently depending what type of small dwelling you build (or buy). For example, a tiny house on wheels is actually classified as an RV. But you can only live in an RV that's not in an RV park for a certain number of days per year. And manufactured homes, modular homes and site-built homes all play by different rules.
Tiny home enthusiasm sometimes leads to changes in local zoning to allow for more-flexible use of accessory dwelling units, or accessory dwelling units (ADUs). Some municipalities have taken this a step further.
For example, in British Columbia, the town of Nelson has adopted a "Laneway Housing" ordinance that makes it much easier to add a tiny home-type dwelling next to an existing home. While this change is welcome, it's low-hanging fruit for planners—hardly radical or especially progressive.
The "Have More" Paradox
The problem with ADU-centric ordinances is that they assist those who already own a property­—not would-be owners who purchase or lease land, hoping to build small. Americans tend to think of themselves as class neutral, but housing policies such as these favor the favored. That's not to say the end result is undesirable. It allows families to put in a small house for aging parents, for example. On the other hand, it won't help a young couple stuck in an overpriced apartment move into home ownership.
And of course, because ADUs are frequently "add-on" structures, many owners are (understandably) inclined to use them as rental properties. In a time when middle-class incomes have flatlined while costs of living keep rising, such rentals can provide relief. Estimates suggest, for example, that Airbnb typically amounts to about a 14 percent income increase for those lucky enough to have the option.
Of course, nothing lasts forever, and short-term rentals are under siege in many cities. Boston politicos have suggested banning Airbnb rentals altogether. Portland, Maine, has limited the total number of short-term rental registrations to 300. In nearby South Portland, pressure from NIMBY neighbors resulted in a list of onerous requirements that cut off short-term rentals at the knees. The list of restrictions includes banning the rental of camper vans, tents, trailers and mobile homes.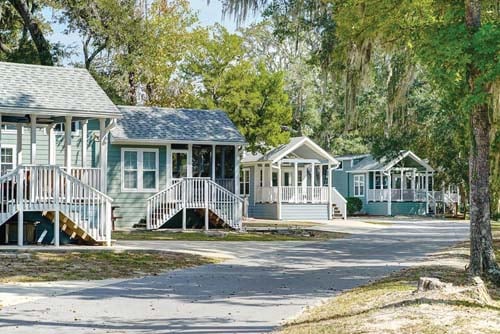 Why is this relevant? Because zoning at the local level is often decided by mob rule. It therefore can change rapidly and unfavorably for tiny house owners. This is one of many reasons, in our opinion, why tiny homes—even those on foundations—should retain their ability to become mobile again. That way, if the sea level rises, a wildfire threatens or local zoning conditions become untenable, owners have the option to pull up stakes and move somewhere friendlier to right-sized living. Others are also pushing this idea: Code changes are in the works that may make a hybrid tiny house possible.
The Municipal Mind
Advocates for tiny homes need to understand the priorities of policy makers. Beseiged by taxpayers for every attempt to shift away from "the way it's always been done," they tend to pick their fights carefully, taking the path of least NIMBY pushback. That path, for better or worse, typically leads them to take sanctuary in the bottom line. Whatever costs a lot of money gets pushed to the bottom of the priority list.
Property taxes, unfortunately, have become the primary financial engine that pays for city services. And city services almost never go down in price. To determine tax rates, cities assess properties and assign a value. In some places, such as Texas, the formula is pretty simple: Multiply the appraised value of the property by 1.5 percent. So for a $100,000 home you pay $1,500 annually. A tiny home might appraise for $30,000 or less. That cuts the potential property tax haul to under $500 annually.
In most municipalities, education (schools and related costs) account for about 80 percent of spending. Texas, for example, spends about $10,456 annually per student, according to the NEA. If that metric is typically the primary benchmark for approving new housing, you see why cities might push back. In places where affordable housing is hard to find, "one-off" tiny homes built on full-sized lots may be seen as poor use of valuable space. Urban planners like density and proximity, not scattershot development.
In some communities, proposing a "village" of tiny homes on small lots may break through the policy barriers. Alternately, tiny homes built in more rural areas can disappear into the local landscape.
But the metric isn't nearly that simple. Researchers on the impacts of new housing development have found that larger homes, for example, might appeal to larger families (introducing more students to educate). The current level of capacity in local schools also matters. Educating students in schools with empty seats costs far less than when classrooms are maxed out.
As with any good housing plan, the key to social and financial viability is mixed use—a combination of multi-family, small-lot developments and "one-off" single-family homes on individual lots.
For example, in Austin, a tiny home village is under construction. Village Farm will include 152 agriculturally themed homes, many of which are a mere 399 square feet.
---
This is Chapter 1 of the Tiny House Tactical Guide. Download this free Ebook here.