IN A MEMORANDUM regarding his years of service to his country, Thomas Jefferson wrote, "the greatest service that can be rendered to any country is to add a useful plant to its culture." Combining the desire for getting back to the earth and reducing not only one's waistlines but also their carbon footprint, more and more new homebuyers are feeling their oats in purchasing homes with productive landscapes. Here in the Southeast, with warmer and sunnier winters, the edible landscaping trend provides more opportunities to grow useful and delicious fruits and vegetables year-round.
In the Sixties, the organic vegetarian lifestyle, living off the land with the help of the Foxfire series and Mother Jones magazine, was all the rage. What was old is new again, with current trends in gastronomy featuring open-air fresh vegetable markets, heirloom vegetables and a kaleidoscope of new colorful peppers, beans and tomatoes. "Vegetables are the new meat," cited New York Magazine's Restaurants column last fall. Vegivores are setting the style, especially among millennials (the next generation of home buyers). They're interested in expanding their culinary interests into the backyard.

Seeds of Success
Sustainable landscapes are at the leading edge of outdoor design. Why be left behind? If you do decide to include edible components in a plan, this needs to be discussed from the start of the overall
design process. Site assessment before the home is started will determine if there are any species—especially natives—already on-site that can be incorporated into the design, or moved properly and held off-site to be used in final stages. Budgeting for landscaping material, efficient irrigation and installation costs should be determined up front, so that by the time the home is nearing completion, there's still adequate funding for fruit trees and pond features.
The initial landscape concept and design could still change during the construction phases, of course, but in order to create a viable and sustainable landscape, the landscaper will need to start early, to identify specific fruit and vegetable cultivars, especially if species are out of season or
being grown from seeds. Hiring a landscape contractor who is flexible and understands the stresses of construction, timing and probable delays is important, especially when working with edible plant palettes and scheduling installation.

Work With What You Have
Site assessment is crucial to a bountiful edible landscape. Knowing the property's sunlight conditions and whether or not the plants need full sun—eight or more hours of sunlight a day, partial sun—morning sun, afternoon shade, or morning shade, afternoon sun—will determine specific plant selections that can grow and/or produce fruit with that amount of sunlight. Having full shade—five hours or less hours of sun—will be a detriment to growing many fruits, herbs and vegetables. Analyzing the soil moisture conditions and pH are important to a plant's health and ability to absorb nutrients.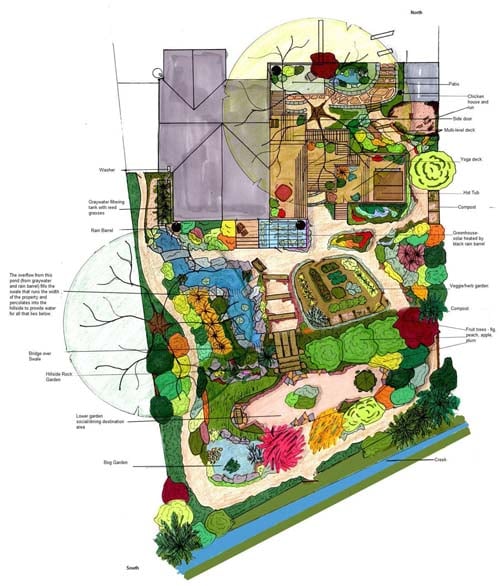 This imaginative residential landscape has conservation in mind. No water is wasted, as it cascades from one section to another. Note that many jurisdictions restrict how graywater can be used, so the flow may need to be restricted to certain non-edibles. Designed by Laura Wright.
Soil types vary in the Southeast, from quick-draining sand, to black, nutrient-rich swamp soils, to red clay. Depending on your soil analysis, organic amendments such as mushroom compost can be added to help soil structure, increase fertility and aid with either percolation or water retention.
Growing edible landscapes may require more nutrients to get a good harvest, but with best management practices, organic amendments and slow-release fertilizers, homeowners with more fruits and vegetables and reduced turf areas will decrease their contribution to stormwater runoff.
There is no such landscape as a no-maintenance landscape, including xeriscape themes. That being said, edible landscaping will require average to above average maintenance and water use, depending on the percentage of edibles used, normal rainfall and seasonal changes. The health and environmental benefits, however, are many. They include eating freshly grown organic fruits, vegetables and herbs, and reduced use of lawn mowers, hedge clippers and petroleum-based fertilizers. If you design using permaculture techniques, you can reduce maintenance even more, at the same time increasing the property's resale value to the next health-minded buyer.
Other benefits to edible landscaping are less tangible, yet worth mentioning to green-minded clients. "Locavore" families often take pride in their reduced ecological footprint. Children benefit in knowledge and physical activity by participating in growing their own food, rather than thinking that all fruits and vegetables come from a grocery store. Landscapes with diverse plant species tend to keep soils healthier and provide more resources for wildlife and pollinators.

Lip-Service Versus Buy-In
While green certification offers credit points for edible landscaping, it is important for builders attempting certification not simply give it lip-service, but to obtain the new homeowner's agreement and commitment—so that edible landscaping can be implemented correctly. A 4' x 4' herb garden in a production home can be attractive and quaint, an incentive to buy and 'checked off' to help obtain green certification. However, if the homeowner hasn't asked for it, and doesn't know how to take care of it properly, the herbs could start to decline or die within a few months, and that failure may result in a return to grass seed or turf. This, in turn, may lead to over-watering, over-fertilizing and unnecessary chemical applications. The end result is a less resilient lifestyle and a discouraged homeowner.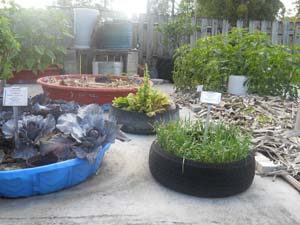 Container Gardens. Container gardens can be used to grow both edible and non-edible plants. They're a great option for rentals, small urban patio areas and retrofits.
Designing garden beds with strategically-placed fruit and nut trees, berried shrubs and edible perennials and annuals will be easier on the new gardening homeowner. If there's enough property, a 15' x 15' area (or larger) with raised containers or in-ground beds can be an easy way to encourage first-timers to grow their own food. Homeowners will accept the maintenance needed in their landscapes, if they know that eventually, they will enjoy eating the fruits of their labor.
During the final walk-through, when the builder and homeowners are going over the last details, and the home's warranties and manuals are being supplied, gardens should get their due. Give the owners the local cooperative extension office contact information, plus a list of all plant species on site, with their locations and anything the residents might need to know about care and maintenance. While you're at it, throw in some recipes, and capture all these details in an attractive three-ring garden journal they can show off to friends.

A Yard for All Seasons
I remember back in the Sixties, when it seemed like growing plants was as simple as throwing seeds out into the yard, or putting an avocado seed in a jar of water. But that's about the same time that suburbia was ramping up, the petro-chemical industry was making lots of promises about the future of agriculture, and today's cookie-cutter home landscapes were becoming homogenized across the country. Those landscapes have become the epitome of monocultures, wasted water, chemical over-use.
What's more, they're expensive and time-consuming to maintain for today's homeowner. But with sustainability as a goal, green developers, builders, landscape architects and designers can turn things around. There's a wide array of new plant species availability. It's easy to locate and purchase exotic trees (non-invasive, of course), heirloom seeds and hybridizing programs from all over the world. If your local nursery can't help, you can find almost anything from great companies with deep catalogues such as Johnny's Seeds and Fedco. In short, getting into edible landscaping for any growing zone has never been easier.
Remember to advise and educate clients on the seasonal aspects of edible landscaping. Tropical fruit is usually evergreen, but certain species—such as apples and pears— are deciduous. That means they will lose their leaves before their dormancy period in the fall. Make sure the owners understand this. A dormant landscape can look bare if not properly mixed with evergreen plants. I use flowering perennials, a few evergreen plants and colorful winter annuals such as pansies to brighten the scene. Labels are very useful during this time, to remember exactly what is planted where. Put plenty of personal tips and notes in the garden journal you're handing off, and these owners will remember you fondly for years to come.
---
Teresa Watkins is a horticulturist/landscape designer and environmental consultant. She has an award-winning weekly garden radio show, "In Your Backyard," heard on www.my790am.com.