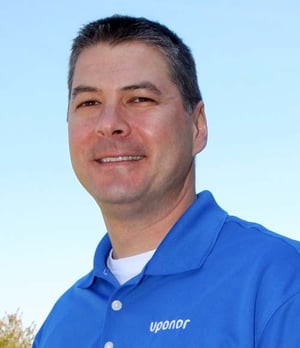 Sustainable Protection with Residential Fire Sprinkler Systems
Eric Skare
Innovation Manager
Uponor

Tuesday, December 10, 2019
2:00 Eastern
Fill out the form on this page to register.
Whether you need to meet the fire sprinkler mandate in your jurisdiction or want to add a life-safety upgrade to your homes that also helps conserve water and other precious natural resources, there's a smart solution that really works for builders, contractors and homeowners alike. While you might not think of fire sprinkler systems as a sustainable building product, they actually do save significant water, building materials, and most importantly, human life. This presentation will discuss how you can promote the sustainability of your homes with fire sprinkler systems and how different systems offers benefits for builders, installers and the end user.
About the Presenter: Eric Skare is the innovation manager for Intelligent Water at Uponor. He has been in the residential plumbing and fire safety industries for 18 years with an emphasis in product marketing, product engineering and project management. As a volunteer firefighter and a professional member of various fire protection associations, he is passionate about water conservation and personal protection. He holds a bachelor's degree in Mechanical Engineering from the University of Minnesota, and a master's certificate in Project Management from the University of Wisconsin at Madison.
Sponsored by: