Decentralized treatment meets stringent codes and builder space and treatment needs.
The need for new wastewater treatment approaches due to cost of available land, the high cost of sewering, reduced funding, a crumbling infrastructure, and increasing environmental concerns has catalyzed the acceptance of decentralized wastewater treatment strategies and applications as a viable solution to compare with centralized options.
It has taken decades for the decentralized wastewater treatment model to fight and claw its way up from the perception as an "ugly stepchild" to a scientifically based and cost effective wastewater treatment solution. What is offered today is an effective alternative for communities, engineers, developers, and builders that need a wastewater treatment solution.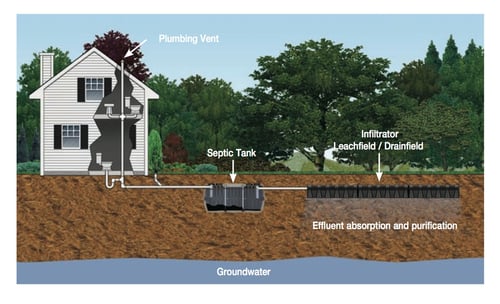 With increasingly stringent health codes regulating onsite wastewater system design and installation and the growing awareness of nutrient damage to the environment from nitrogen and phosphorus municipalities are pushing engineers and developers to present wastewater treatment solutions that can perform long term and contribute to sustainable development.
If developers and builders had to solely rely on centralized sewering to dispose of wastewater from their projects, development in many areas would be unfeasible. Potential constraints can include a lack of capacity to accommodate additional flows, the high unit cost of sewering, or a lack of funding to expand the centralized WWTP. This continues to elevate a decentralized wastewater treatment solution as the friend of smart, responsible growth. In more and more cases, the size and construction of the decentralized wastewater treatment system influences the way land can be used and developed.
The good news is that new codes are resulting in an expanded number of choices for communities needing to upgrade onsite septic systems or expand existing centralized treatment facilities. Product designers and manufacturers have risen to the challenge to provide a host of advanced wastewater treatment and disposal products and system design options.
In many communities, where centralized wastewater treatment facilities are overburdened and the addition of new sewer lines is prohibited, or where individual septic systems are frowned upon, cluster systems are being recommended by local health departments and planning agencies. Recognizing the need to advocate advanced wastewater treatment systems of a scale that will support positive development, they also recognize and often require these systems to be professionally managed. Professional management provides more control on the quality of the waste treatment process. If competent management is available, some utilities are even favoring this approach as the most cost effective long-term solution.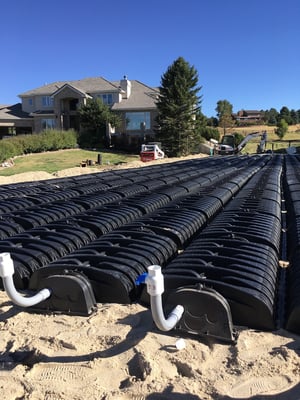 The availability of advanced technologies in onsite wastewater systems provides engineers and system designers working for developers and builders to increased land use flexibility. Onsite wastewater system engineers embracing these new options are finding the innovative, space-saving and flexible technologies can be easily adapted to site conditions installed at a reduced size, and even contoured to match the available landscape.
The new generation of onsite wastewater treatment products that enhance design options and system performance, ease installation, and reduce management dilemmas are the key to responsible and sustainable growth and environmental protection. Two examples are chambers and tanks.
Chambers
It is estimated that one in every three onsite wastewater treatment systems constructed in the United States today is a plastic leaching chamber system. Using chambers in septic system leaching trenches and beds, enables highly adaptable and effective specialized system designs that meet and exceed treatment needs. Recognizing the advantages of chambers, regulators have adjusted their perspectives on leachfield sizing and now base it on the level of treatment provided. This often means a reduced footprint for the leachfield when chambers are specified. New chamber designs offer even more flexibility in system design and installation including contouring and shallow installations. Engineers designing large community or commercial wastewater treatment systems now prefer specifying chambers due to their large storage capacity improved infiltration capacity.
Tanks
The need for compact systems for small lots and for systems in environmentally sensitive areas is serving as a catalyst for tank innovation including increased safeguards to ensure watertightness. On difficult sites, the ability to install a tank in a shallow, low profile configuration to leverage the available space while avoiding rock or problematic soil conditions is another need pushing designers to innovate.
Conclusion
In the future, we will surely see many new system designs and advanced treatment options developed in response to changing environmental and economic needs. Engineers, developers, and builders will continue to be challenged to create innovative wastewater treatment solutions that sustain development, meet community needs, and protect the environment.
---