HarvestH2o announced in February the first rainwater harvesting site analysis tool.
This simple tool from Harvest H2o tells builders or homeowners how much rain can be harvested from a site and offers other helpful tips, such as: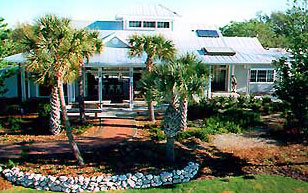 The photo above is the Florida House Learning Center, which demonstrates environmentally appropriate design strategies and technologies. Learn more about the house.
amount of rain in gallons that can be collected from a roof
how to properly design a rainwater catchment system
the evapotranspiration rate for an area
monthly rainfall for site
peak storm event rainfall that should be used when calculating tank size, pipe sizes, and drain sizes.
Click here to access the HarvestH2o Site Analyzer.
Once you've learned how to capture rainwater, supplement with smart irrigation. The good news on that front is that Irrigation Keeps Getting Smarter.
---