No building material can beat salvage when it comes to embodied energy. If you haven't explored some of the fascinating architectural re-use centers around the U.S., here's an exclusive sneak peek at one of the best: Portland Architectural Salvage in Portland, Maine.
Mantles and Surrounds
Used mantles are a popular "upgrade" for new homes. Even in homes without functional fireplaces, they offer an illusion of grandeur. Prices typically begin a several hundred dollars each, up to about $2,000.

---
Fixtures and Flow
By combining old parts with new plumbing technology - such as mixing valves, PEX tubing and hot water re-circulators - it's possible to re-integrate classic fixtures without taking the environment for a bath.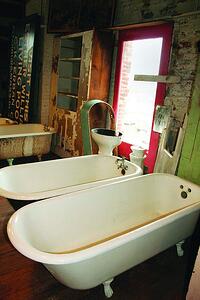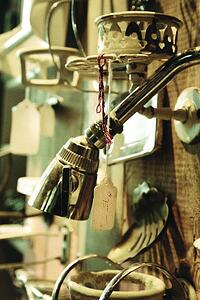 ---
Doors and Hinges
While it's probably a poor efficiency move to install an antique salvaged door as an exterior entry, almost any used door can be used on interior rooms - completely changing the personality of a home.

---
Lighting
With the advent of LED lamps that fit standard incandescent sockets, classic hanging lamps, pendants and sconces integrate nicely into eco-friendly homes. Be sure to inspect old wiring thoroughly, of course.