The 2017 wildfire season reshaped how we define and address the global wildfire problem. What's next?
In trying to make sense of the many dramatic wildfires that occurred this year, a few media outlets have described 2017 as the dawn of a "new normal" in terms of the scope and size of wildfires. While that label is open for debate, I do think 2017 was unique in revealing some important lessons and showing us the full cumulative impacts of a changing world on wildfire behavior.
The fire season kicked off in January when wildfires burned across Chile, charring entire towns and landscapes. In spring, a historically early batch of wildfires ignited in Florida and California, while grass fires burned hot and fast across Kansas and Oklahoma and near Cape Town, South Africa. This summer, 60 people died while fleeing a forest fire in Portugal; the U.S. wrestled with the costliest wildfire season on record; and large, menacing fires on the Mediterranean coasts of Europe sent tourists scurrying and made global headlines. In mid-October, one of the most destructive wildfires in U.S. history struck Northern California, killing at least 40 people and destroying thousands of homes. The year closed out with similarly destructive fires in Southern California.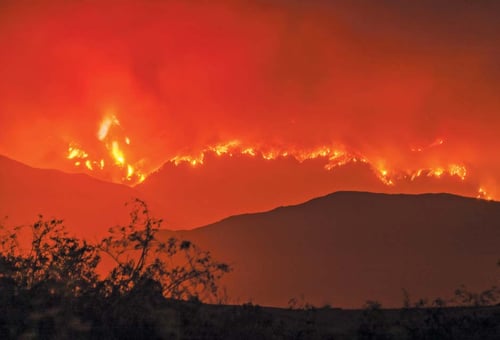 While certainly a challenge for residents and the fire service, did these events really mark a "new normal" as some would suggest, or just a more recent version of the old normal? It's a little of both. Many of the factors that made for a difficult fire season—increased development in the wildland/urban interface, an aging rural population and a warming climate—aren't new, but 2017 was perhaps the first time we clearly saw their combined effects. Taken as a whole, they have created a new fire environment that we have not prepared well for. When the three components of the wildfire triangle—fuel, topography and weather—become imbalanced, wildfire as we know it stops behaving in a roughly predictable way, and a "new normal" is the result.
The June wildfires in Portugal offer a good illustration of the potential outcome of this imbalance. While seeking answers about why the deadly wildfire in Portugal swept so quickly across the rural landscape, The New York Times described the problem in part like this: "hotter, drier summers are setting off more forest fires, which are accelerating a decades-old migration [among residents] from rural areas, leaving lands untended. That, in turn, helps fuel new and more-intense fires that spread and burn even faster."
The Times also explained that changes in land management helped fuel the flames in Portugal. Areas that were once open oak stands, farmers' fields and grazing pastures have been transformed into forest plantations of pine and eucalyptus to feed the global wood-pulp market. This new cash crop is highly combustible and is surrounded by small landowners who are often unable to properly manage fire on their own lands.
Similar changes are happening across the globe. In the U.S., rural populations are getting older, making it more difficult for some people to adequately maintain their properties against fire. Summers are getting hotter, and changes in how we use the land have put more people in places where fire has historically been an integral part of the landscape. The resulting buildup of dry overgrowth requires only a spark to become a devastating wildfire.
These shifting factors are the real "new normal." If we are to address them, fire departments, wildfire agencies and policymakers need to learn from the global wildfire experience of 2017. These lessons will help us figure out not only where wildfires might demand attention in the years to come, but what other steps we can take to mitigate their impact.
---
Lucian Deaton is project manager in the National Fire Protection Association (NFPA)'s Wildland Fire Operations Division. NFPA (www.nfpa.org) is a global nonprofit organization that strives to prevent death, injury, property and economic loss due to fire, electrical and related hazards.