Climate change is impacting our communities.
Neighborhood-level change can help increase climate resilience.
In late spring, sustainability experts gathered at The Discovery Center in Philadelphia for the second Community Climate Resilience Workshop hosted by Green Building United in partnership with the Philadelphia Association of Community Development Corporations. The event aimed to increase knowledge of resilience from the city scale down to the neighborhood level in Philadelphia. Community developers, designers, planners, and government representatives shared knowledge on how climate change is impacting communities, what resiliency means and looks like, and how communities can take action.
We are excited to share three key takeaways from this year's workshop to understand and better address climate change challenges, such as increased heating and cooling costs in extreme climate conditions, relief after natural disasters, and impact flooding.
#1: Climate change isn't just natural disasters. Climate change is impacting communities and residents around the world and Philadelphia is no exception, though the specific effects vary from city to city and neighborhood to neighborhood. Climate change will continue to affect communities in more severe ways over time and we must understand what we can do as individuals, households and neighborhoods to be prepared for emergencies and natural disasters, such as fires, flooding and extreme heat.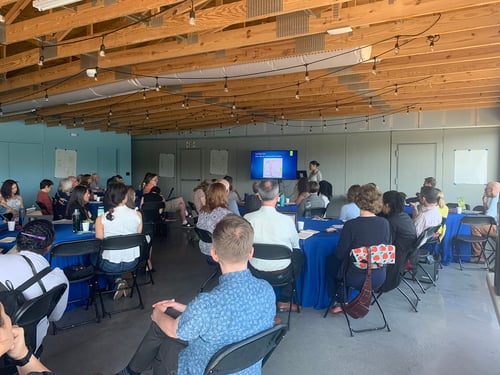 While larger scale weather events and natural disasters get most of the attention, it's the more gradual changes to our climate that have the greatest impact. For example, a steady increase in high heat days translates to much lower air quality and increased energy demand, which in turn cause heat related health issues and increase the energy burden for vulnerable populations. The built environment and the social dimension of climate change are both essential to building any strategy around resilience.
#2: Hyperlocal initiatives drive change. Many cities, have already implemented top-down strategies to address climate challenges, mitigate their impact and help residents adapt. While these initiatives are beneficial, climate change challenges can differ by neighborhood, and no single city agency can address every issue. Hyperlocal organizations, on the other hand, are better resourced to develop relationships, sow community pride, and establish a sense of belonging for residents. When residents feel invested in their communities, they're more likely to support local initiatives and invest in the good of their neighborhood.
Esperanza, a non-profit community organization based in the Hunting Park neighborhood of Philadelphia, represents an excellent example of a local community collaborating with city government to promote climate resiliency. In 2018, Esperanza and the City's Office of Sustainability piloted a program called "Beat the Heat" in one of Philadelphia's hottest neighborhoods. On a summer day, Hunting Park can be as much as 20 degrees hotter than neighboring communities, making it one of the places most vulnerable to climate change in the city. The program, derived from a mutual understanding of the importance and advantages of hyperlocal climate resilient strategies, aimed to cool down the neighborhood through understanding what cooling strategies residents are already practicing, as well as community idea sourcing for short and long-term solutions. One such solution was tree planting, as trees help to cool improve air quality. Prior to the program, Hunting Park had a 3.9 percent tree canopy coverage, compared to a citywide average of 18.6 percent. Through the program, trees were planted in the community and donated to residents so individuals could do their part to increase climate resilience.
While the Hunting Park community benefited from a tree planting initiative, it's important to note that no two neighborhoods are the same. Another community in the same city may call for a different strategy, so it is critical that we address climate resilience at the neighborhood level.
#3: We all have a role to play. Whether you're a design professional or a neighborhood advocate, we all interact with the built environment and play a role in its continuous design, development and operation. At the workshop, we put this into practice by discussing a hypothetical: If there's a new building being developed in our neighborhood, what amenities do we need? How will it influence and interact with the environment? Can it be a neighborhood cooling center? Will it provide green space? Is it designed to operate in the future climate context? It is essential for developers to assess community needs by providing opportunities for residents to engage with planning and design. And by being more informed and engaged, residents can be advocates for planning that support a more climate resilient community.
Climate change is happening now and it's critical for us to understand how our neighborhoods are being impacted, what initiatives we can support and advocate for, and ultimately what role we play in our communities. By collaborating with community organizers, developers, designers, planners, government officials, and residents through forums such as the Community Climate Resilience Workshop, we can make strides to address climate change and resiliency, and drive positive change in our neighborhoods.