Take advantage of the shorter, colder days to learn more about the threat of wildfire and ignition sources with this free Firewise USA
online tutorial. Share new knowledge with your neighbors.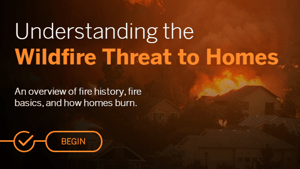 This online learning module is an overview of fire history, fire basics, and how homes burn. It's an excellent resource for residents and other stakeholders that are pursuing knowledge on the basics of how wildfires ignite homes and the actions that can be implemented to make homes safer. The module can be completed in approximately 30 minutes.
There is a Spanish language option and an option to download the transcript.