When citing benefits for green roof installation, fire resilience should appear near the top of the list.
GREEN ROOFING IS NO LONGER A FRINGE CONSTRUCTION CHOICE - in Germany for instance, there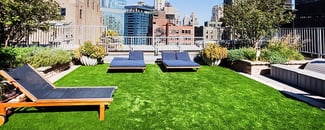 are more than 200 million square meters of green roofing. According to Green Roofs for Healthy Cities, more than 11.5 million square feet of green roofs were installed between 2011 and 2014 in the US. One of the largest government green roof maintainers is the GSA who takes care of more than 2 million square feet of green roof in the US.Their experience and research has found that green roofs typically provide a return on investment of 224%, reduce storm water runoff by 65% and last twice as long as conventional roofs. However, there is a new reason to consider green roofing - particularly in areas with high fire risks.
GRHC's design standards classify professionally installed green roofs as generic fire resistive vegetative systems and state that these types of green roofs have an "excellent history of resisting fire damage."
Just how well do green roofs provide fire damage protection? The following short video comes from LiveRoof to answer that question.