Local Green Home Builder is first to use Net-Zero Energy Building Standard
Seattle, Wash.,

March 18, 2013

–

Local Builder John Wesley Miller will build the first net-zero energy house using the City/County Net-Zero Energy Building Standard. Ground breaking is scheduled for noon on Monday, March 25, at 413 S. Third Ave. in Tucson. Miller is a veteran builder of energy-efficient homes and previously built a net-zero home in collaboration the U.S. Department of Energy.
A net-zero energy home generates as much energy as the home needs over the course of a year. During the day, photovoltaic panels make electricity. Any electricity the home doesn't need goes back to Tucson Electric Power (TEP), like making a deposit to the bank. During the night, the electricity needed is "withdrawn" from TEP. Electric bills for net-zero homes most months are less than $10. The bill is essentially a monthly connection fee for access to the power grid.
As Miller explains, the structure of the home is critical to energy efficiency: "We start with an envelope that doesn't take much energy to begin with. We use standard masonry concrete block house, and we fill it solid with concrete. We insulate on the outside of the masonry, then put stucco on top. The floor level is also insulated on the outside."
Insulation is important for thermal mass storage. Walls and floors store warmth during the winter, and they store "coolth" (a word Miller likes to use) in the summer. The house was designed by architect Hank Krzysik.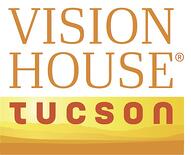 VISION House® Tucson is a joint project between John Wesley Miller Companies and Green Builder® Media. The house will be built in Armory Park del Sol, where energy-efficient homes average only $300 per year in heating and cooling costs. The VISION House will look like homes built in the original Armory Park neighborhood, Miller says, "It's where historic meets high tech."
The total cost of owning a net-zero home (including mortgage and utilities) is less than the cost of a owning a similarly priced home that only meets the minimum requirements of the building code. Energy bills are much higher in a code minimum home. In addition, a net-zero home locks in the cost of energy at less than today's TEP prices and the cost never increases.
"The goal of the City/County Net-Zero standard is to provide home builders with a recipe card that gives all the information you need to build net-zero," says Rich Franz-Under, Pima County Green Building Manager.
The City and County collaborated on the research and development of the Net-Zero Energy Building Standard to provide information to builders and homeowners about net-zero. Net-zero homes lock in energy rates much lower than TEP can provide providing the homeowner with a secure energy future, plus they help reduce greenhouse gas emissions and reduce TEP's need to purchase peak power.
Read the new Net-Zero Energy Building Standard.
FOR IMMEDIATE RELEASE
Contact information:
Pima County:
Rich Franz-Under
Green Building Program Manager,
Development Services
520-740-6892
City of Tucson:
Michael Graham
Public Information Officer
520-837-6686
---
© 2017, Green Builder Media. All rights reserved. This article is the exclusive property of Green Builder Media. If you would like to reprint this content, you are free to extract a short excerpt (no more than 1/4th of the total article), as long as you 1. credit the author, and 2. include a live link back to the original post on our site. Please contact a member of our editorial staff if you need more information.