Green Builder® Media Announces Ground-Breaking Ceremony
VISION House® Tucson: A Vision for Excellence
Seattle, WA, March 19, 2013 – Green Builder Media, North America's leading media company focused on sustainable living, recently announced the ground-breaking event for VISION House® Tucson – a sustainable demonstration home that will focus on green design, advanced technologies, and the utilization of innovative, site-specific solutions to enhance the home's overall sustainability.
Green Builder Media, builder John Wesley Miller and architect Hank Krzysik, will be joined by Congressman Ron Barber and Mayor Jonathan Rothschild to celebrate the kick-off of this energy-efficient project. With an expected HERS rating of negative 17 the home is expected to produce all its own energy and will be able to sell excess energy produced back to the local utility.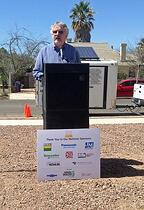 "I have solar panels on my own home, and I understand how they can save money and reduce our use of nonrenewable resources. While our economy is still recovering, it's important to demonstrate to people how energy efficiency and the use of renewable resources, such as solar power, can help save them money and live more sustainably. John Wesley Miller has been a longtime champion of sustainable development, and the VISION House Tucson is a fitting next chapter in that commitment," says Congressman Barber.
The event will be held at Noon on Monday, March 25 in Armory Park del Sol - 413 S. 3rd Ave., Tucson, Arizona.
National sponsors include Boral®, Panasonic, Johns Manville, Schneider Electric, MI Windows and Doors, Kohler® and Crossville® Inc. For sponsorship opportunities contact craig@greenbuildermag.com.
About Green Builder Media
Green Builder® Media, LLC is the leading media company in North America focused on green building and sustainable living. With a comprehensive suite of print and digital media solutions, demonstration projects, case studies, online training, and live events, Green Builder Media assists building professionals in preparing themselves for the new green economy and helps homeowners understand how to live more sustainably.