Green Builder® Media Celebrates Labor Day with Made in America Tips and Products for Consumers Interested in Greening Their Lives
Seattle, Wash., August 27, 2013 - Green Builder Media's founder and sustainability expert Ron Jones explains that green living and products that are made in America go hand in hand on "The Daily Buzz," a nationally syndicated morning show featuring news, weather and entertainment.
In the segment Jones emphasizes that consumers are already participating in the green home revolution, with indoor air quality, water management, and energy efficiency leading their list of concerns. Many of these educated consumers also understand the importance of investing in U.S.-made products and manufacturing facilities that support the American economy and limit harmful emissions into the atmosphere by reducing the miles products need to travel to get to consumers.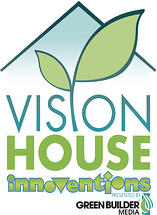 Jones points out the merits of two U.S.-produced products in his segment: One, Boral roofing, makers of Boral's clay tile roofing, qualifies as a cool roof, is fire resistant, Energy Star rated, 100% natural, and is recycled and recyclable.
A second product Jones recommends to consumers is Armstrong flooring, because not only are 90% of the company's products made in the United States, but the company also supports the efforts of Homes for Our Troops, a charity that helps disabled veterans. The company is particularly proud of its American Scrape line of flooring, which is affordable at $4 a square foot, and is reminiscent of reclaimed flooring of days gone by. The product is completely recyclable at the end of its life.
How does Jones and his company know green products? Because in addition to being a media company that covers green residential building, the company builds demonstration projects around the nation—the VISION House Series—to illustrate how to incorporate mainstream green products and systems for everyday sustainable living. The VISION House in Lake Buena Vista, FL, where the Daily Buzz segment was shot, is the ideal venue to highlight Made in America green products. U.S. made products in this exhibit include:
Boral durable roof tiles, bricks and pavers, stone, and trim,

Kohler low-flow plumbing fixtures,

Schott high-performance cooking and fireplace glass,

Pella energy efficient windows and doors,

Armstrong sustainably harvested flooring and cabinets,

BioBased spray-foam insulation by Rhino Linings,

DuPont housewrap and surfaces.
"The future is clear," Jones says. "We need to produce durable homes with better indoor air quality, that are low maintenance, and that offer a better quality of life." For more information about Made in America products and the VISION House, visit Green Builder Media's website at www.greenbuildermag.com. For consumers interested in living more sustainably, Green Builder Media offers a wealth of tips and information through its flagship publication Green Builder, the VISION House series, and other digital and social media. Check out information-packed issues such as the Homeowners' Handbook and the Hot 50 Products issue for more sustainable living ideas and sign up for a free enewsletter to get the latest information on green homes and sustainable living.
About Green Builder® Media
Green Builder Media, LLC is the leading media company in North America focused on green building and sustainable living. With a comprehensive suite of print and digital media solutions, demonstration projects, case studies, online training, and live events, Green Builder Media assists building professionals and homeowners thrive in the emerging green economy.