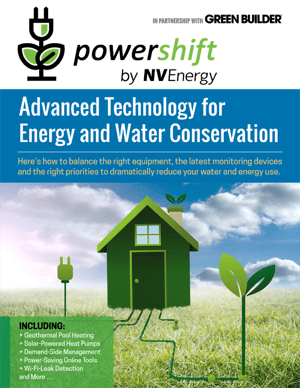 Download the Free Ebook: Advanced Technology for Energy and Water Conservation
Welcome to the definitive guide to balancing the right equipment, the latest monitoring devices and the right priorities to dramatically reduce water and energy use in homes.
From the editors of Green Builder magazine and sponsored by NV Energy, this 32-page resource guide gives you everything you need to know about the latest technology and practices, including:
Geothermal heating and cooling

Solar-powered heat pumps

Demand-side management

Power-saving online tools

Wi-Fi leak detection
This free Ebook also delves into the role of occupant behavior on the efficiency of a house, and how technology can help people live more efficiently in their homes without undue sacrifice. Using a green building pyramid to show the important efficiency issues to tackle first, the ebook lists all the important decisions affecting a home's long-term energy and water use.
Fill out the form on this page to download your copy.