Virginia Polytechnic Institute and State University wins top honor at DOE competition for its energy-efficient building concept.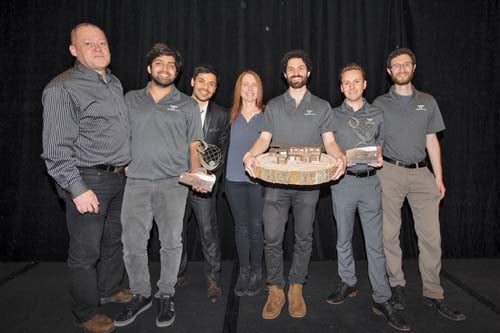 Virginia Tech team members were all smiles after being named winners of the Solar Decathlon Design Challenge.
The Virginia Tech team was named grand winner at the U.S. Department of Energy Solar Decathlon Design Challenge in April. Virginia Tech beat out 44 other finalist teams nationwide including 37 colleges.
The U.S. Department of Energy Solar Decathlon is a collegiate competition that challenges student teams to design and build highly efficient and innovative buildings powered by renewable energy. The winners are those teams that best blend architectural and engineering excellence with innovation, market potential, building efficiency and smart energy production, according to a DESD release.
First-place winners included the United States Military Academy at West Point for the Suburban Single-Family division; Virginia Tech for Attached Housing; and State University of New York College of Environmental Science and Forestry and Syracuse University, Mixed-Use Multifamily.
A complete list of winners is available at the U.S. Department of Energy Solar Decathlon website.