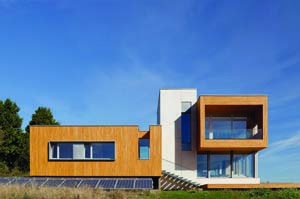 Beyond Green is an apt description of a home that achieved five certifications and has already won awards including 2014 Green Home of the Year Award from Green Builder
Already certified by Passive House, Minergie and LEED Platinum, as well as DOE Zero Energy Ready and Earth Advantage Platinum, Karuna House won one of three Merit winners January 8th from the National Institute of Building Sciences (NIBS) Sustainable Building Energy Council's (SBEC's) 2014 Beyond Green Award Program.
Kahuna House received the honor at an awards luncheon held at Building Innovation 2015: The National Institute of Building Sciences Third Annual Conference & Expo, held January 6-9, 2015, at the Washington Marriott Wardman Park in Washington, D.C.
In the High-Performance Buildings Category, one of three Merit Awards went to the Karuna House and its Project Team of Holst Architecture, Hammer & Hand, Imagine Energy, Earth Advantage and Intep. The hilltop home overlooks vineyards in Newberg, Yamhill County, Ore.
"Their [the Karuna House Project Team] pursuit of three (SBEC pointed to the Passive House, Minergie and LEED) different certifications is commendable and can provide valuable lessons for the industry," said Jurist RK Stewart. "Achievement of these certifications points to the importance of integrated processes and whole building design."
The jury said of Karuna House: A leading proponent of smart climate policy at the national and international levels, the owner of Karuna House built the home both as a model of high-performance building and a case study of the world's most demanding green building certifications. Karuna House is the first building in the world to earn the triple crown of Passive House, Minergie and Leadership in Energy and Environmental Design (LEED) certification. To meet its net positive energy goals, the Karuna House combines an advanced building enclosure with optimized solar design to drive energy loads to very low levels. The Karuna House can now add a Beyond Green™ Award to its recognitions."
Click to learn more about Hammer and Hand and Karuna House.
Click here to learn more about The National Institute of Building Sciences Third Annual Conference & Expo.
Here are links to more information about Passive House, Minergie and LEED.
Hammer and Hand have a produced a number of videos about Karuna House. This one is thye exterior tour.
---