A new study suggests green buildings may improve employee performance, productivity and overall well-being.
Green buildings are known to have environmental and economic benefits, but according to a recent series of studies, there may be other reasons to invest in environmental building upgrades. A new study suggests they may also improve employee performance, productivity and overall well-being.
The Study
For the study, researchers from Harvard University's T.H. Chan School of Public Health's Center for Health and the Global Environment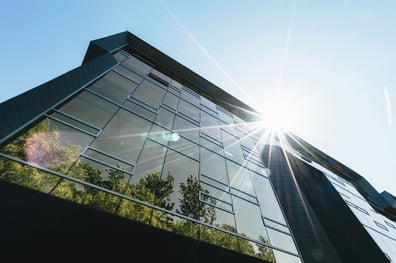 (CHGE) University and SUNY Upstate Medical University looked at 10 buildings in five cities across the United States. The researchers analyzed the relationship between buildings' conditions and the productivity and well-being of the people working in them through a series of tests.
According to the results of the study, employees in high-performing, green-certified buildings scored 26.4 percent higher on tests of cognitive function than occupants of buildings that were high-performing but not green-certified.
People that worked in green-certified buildings had 6.4 percent better sleep-quality scores and 73 percent higher crisis-responsiveness scores.
They also achieved 44 percent higher applied-activity level scores, which measures the ability to make decisions to achieve workplace goals, and 38 percent higher focused-activity level scores, which measures ability to stay focused on the current task.
Workers in green-certified buildings also had 30 percent fewer symptoms of sick building syndrome. This occurs when a building's occupants experience acute health problems and physical discomfort that seems to be related to being in a specific building or room.
Several specific factors were found to increase productivity and well-being, in addition to the overall effect of being in a better-performing building. The green-certified buildings in the study were more likely to be in the thermal comfort zone as defined by the American Society of Heating, Refrigerating and Air-Conditioning Engineers (ASHRAE), which improved mental function by 5.4 percent. The brighter, blue-tinged light in the green-certified building was also linked to better sleep.
In an earlier study, researchers found that study participants scored twice as well on cognitive function tests when in simulated green-certified environments.
How to Pitch These Benefits
The results of these studies are, of course, great news for employees that work in green buildings and their employers. They're also very beneficial for architects and builders of green buildings.
This study provides evidence for the many benefits of green architecture, but it's up to those in the green buildings industry to communicate those benefits.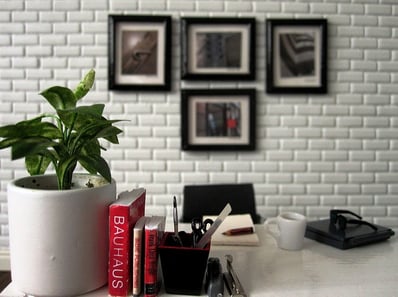 One of the main selling points of green buildings is their money-saving potential. Green construction has been shown to save money through many already-completed projects, such as case study energy-efficiency improvements in Juniata County School District. Previously, these economic benefits were known mostly to come from energy-efficiency savings, but this study reveals more ways in which green architecture can save and bring in more money.
Because they cause the productivity and cognitive function of employees to go up, those employees will make better work-related decisions and earn more money. The improved physical well-being of a company's employees may also lead to higher job satisfaction, improve employee retention and cause workers to develop more favorable opinions of their employers. After all, their employer is providing them with a better work environment.
When pitching green architecture to business and employers, builders should be sure to mention the fact that environmental improvements will save money on energy bills and also help employees bring in more money by performing better and more productively.
They should also emphasize the benefits a green building has for employees. Everyone who works in the building will certainly appreciate the fact that it will make them healthier and more productive. Lower levels of pollution was a well-known health benefit of green-certified structures before this study took place. That's still a major plus, but this study also revealed more health benefits, such as improved sleep and fewer instances of sick building syndrome.
Of course, the environmental benefits of green buildings are still a main benefit as well. Builders should be sure to mention all of these potential advantages when pitching green architecture to their clients.
Green architecture has been believed to be beneficial for years, and some of the advantages they provide were well-known prior to this study. This new research adds several new benefits to the known pluses of improved air quality, energy-efficiency savings and a smaller environmental impact. Now that we know green architecture also improves employee productivity, mental function and health, perhaps the trend will gain even more ground in the near future.
---
© 2017, Green Builder Media. All rights reserved. This article is the exclusive property of Green Builder Media. If you would like to reprint this content, you are free to extract a short excerpt (no more than 1/4th of the total article), as long as you 1. credit the author, and 2. include a live link back to the original post on our site. Please contact a member of our editorial staff if you need more information.