Apparently many senators need a primer on energy. Nuclear is a fiscal nightmare, and solar costs now beat fossil fuels.
I read this laughable bit of news in the Washington Examiner this morning:
"REPUBLICANS PRESSURE NUCLEAR WATCHDOG TO SPEED UP SMALL REACTOR PUSH: Republican senators and conservative energy advocates are demanding that the nuclear energy agency up its game to make small nuclear reactors a reality, or risk them not getting off the ground at all.
Sens. John Barrasso of Wyoming, the chairman of the Environment and Public Works Committee, and Mike Braun of Indiana, pressed the issues in a letter Tuesday to the Nuclear Regulatory Commission's chairwoman, Kristine Svinicki. Svinicki, a Republican, has presided over changes at the agency to certify more advanced and small nuclear reactors for construction in the United States."
Here's why I use the word laughable. Imagine your governor pushing a bill that would bring back landline phones with cords attaching them to the wall. "We NEED those landlines," he would argue. "so we can put people to work installing and maintaining them. for the next few hundred years. Talk about job security!"
Dinosaur Politics
These clueless lunkheads in Washington are playing at the same game. As I've written before, nuclear power requires what I call "The Nuclear Nanny State." You can't just build a reactor, then walk away and let it do its work. You have to guard it, regulate it, check it, and keep doing so for CENTURIES. Our grandchildren will not thank us for leaving radioactive waste to babysit. Nor will their children's children. Ridiculous."
Here's the crux of the matter. Solar power is now 99 percent cheaper than it was in the 1970s. What that mean is that solar can now match (or in most cases beat) any type of mass-generated power out there, including natural gas. And when you factor in the intangibles of nuclear power (military protection of the sites, ongoing storage of deadly radioactive waste), the costs per watt are not even in the same universe.
Don't believe the nonsense about solar not being able to meet our energy needs. Europe is already on track to go 100% solar by 2050. Closer to home, take a look at what NV Energy is doing out in the Nevada desert.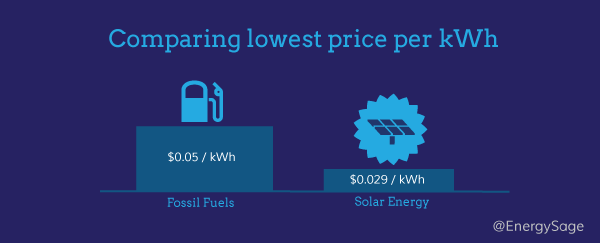 They're putting in a 690 Megawatt Solar Array, with a battery backup. To put this in perspective, a new natural gas powered plant typically produces about 850 MW. The big problem with solar efficiency in the past has been that it only supplies energy during optimal daylight hours, about 25 percent of the time. By adding battery backup, this Nevada array will keep the lights on 65 pecent of the time.
And the Nevada plant is just one small slice of much biggrer solar (and wind) story.
In the FIRST QUARTER of 2019, according toe SEIA: "The U.S. installed 2.7 gigawatts (GW) of solar PV capacity in Q1 2019 to reach 67 GW of total installed capacity, enough to power 12.7 million American homes. This represents a 10% year-over-year increase."
Did you get that? Enough solar for 13 million homes in THREE MONTHS. It's not hard to read the giant neon, sun-powered writing on the wall. The US is going solar. The economics, forget the environmental urgency, simply make it idiotic to pursue other dirty, out of date, endlessly expensive technologies such as nuclear. Here's a screen grab of that Nevada Project announcement from a couple of days ago.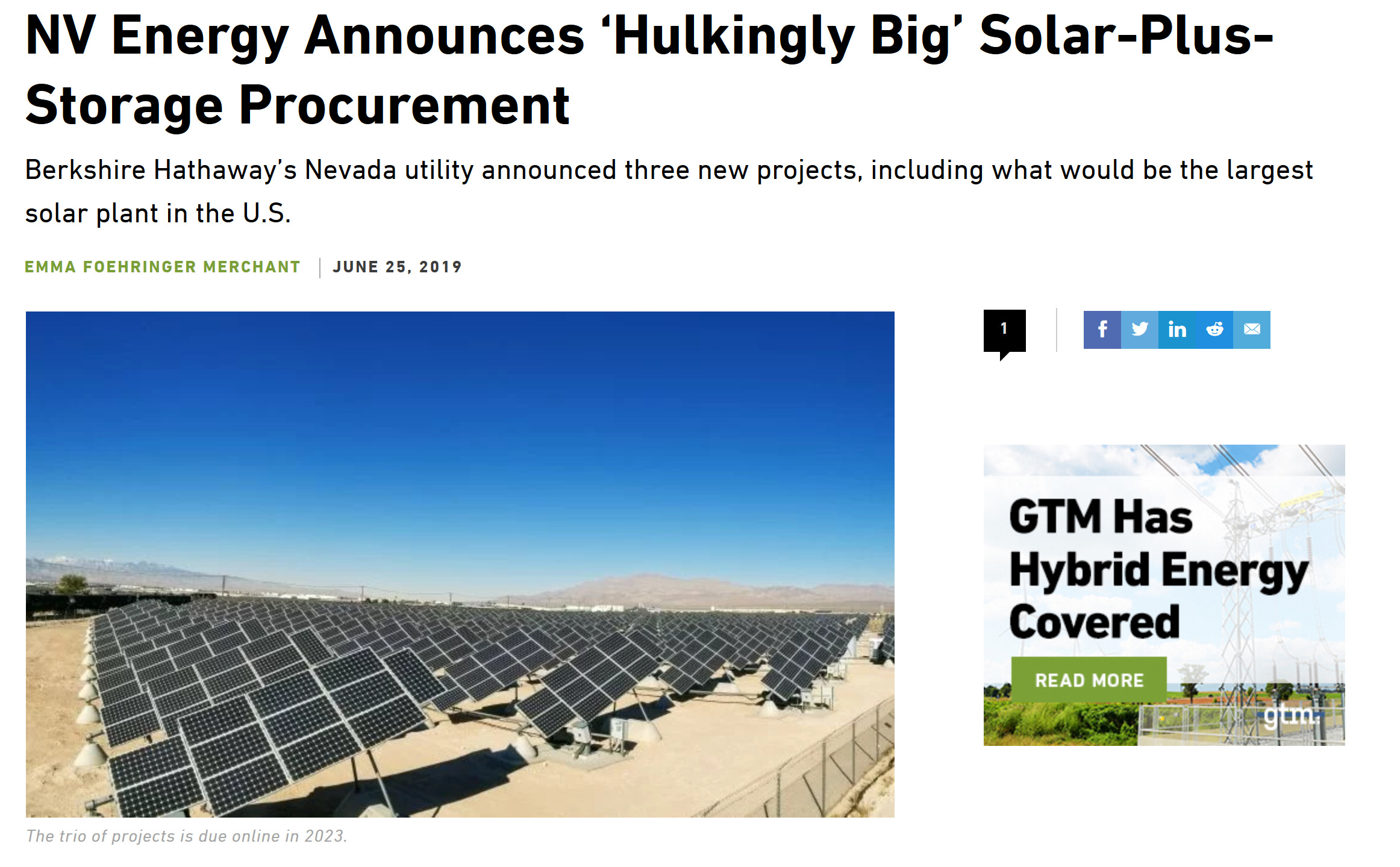 Come on people. Let's tell our representatives to practice good science, stop bending a knee to a dead industry, and move us forward, not backward!