GB: Tell us about Sustainia, an organization a lot of our readers will not know about.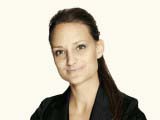 LS: Allow me to go back a little, because Sustainia has been under way for a very long time. We—and when I talk about we I mean Monday Morning, a Scandinavian think and innovation tank—we were trying to provide momentum and support to a new political treaty from the business community. We had an organization called the Copenhagen Climate Council that was working to negotiate the successor to the Kyoto Project Protocol and International Climate Treaty that everyone thought would be renegotiated in Copenhagen back in 2009.

GB: But Copenhagen, from what we've heard, didn't turn out too well.
LS: The political negotiations didn't go exactly as we hoped for. The hopes were incredibly high. For the first time in history, we had 196 heads of state gathered, and they were gathered to do the best they could to secure a new international binding treaty. We didn't see a successful political outcome, but what we did see was a commitment to act from the business society, and a commitment to actually doing something about this.

GB: What went wrong?
LS: It was not the right time to develop a new political treaty. We started a process with our stakeholders to see what went wrong—and what we can do better next time—to ensure we don't lose important momentum. What we found was that the way we communicated about these issues was simply too complex and complicated. So we started to look at what kind of words are actually used to communicate the biggest challenge of mankind. We were using the wrong words. Another problem was that even though we believe we truly have a huge environmental problem, the pictures used to communicate this issue were only pictures of fear, and there is a good reason to be scared—but they're not pictures that motivate people.

GB: So the messaging really matters. We've heard similar things from green marketers.
LS: Yes, science shows that [doom and gloom] pictures create an even bigger distance. People don't want to engage or be associated with pictures like that. There is a real need for a new approach.

GB: Sustainia?
BF: That's right. We created an alliance of civil society leaders, international business communication experts and policy designers to come up with a shared, inspiring vision of the society we could create using solutions available to us today. Sustainia is not a utopia. It's based on science. This is not something that could happen; we believe it's something that will happen, once we begin to implement these solutions.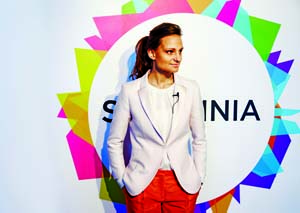 GB: And your messaging is more positive?
LS:Sustainia clearly demonstrates the attractive society we could live in, communicated using inspiring pictures. The quote I want to show you now is, in essence, what we are all about: "If you want to build a ship, don't drum up people to collect wood and don't assign them tasks and work, but rather teach them to long for the endless immensity of the sea" (Antoine de Saint-Exupéry). Basically what this is communicating is that we, Sustainia, do not believe in pointing fingers or telling them what to do, but providing them with an inspiring vision, something to long for.

GB: How will you amplify your message so it has real impact?
LS: Basically, our strategy consists of three main pillars. And these are not individual pillars, but they're all part of the same DNA, so they need to be seen as woven in together. The first pillar is about identifying the solutions already out there. The Sustainia 100 is 100 solutions that are out there today that will help create Sustainia. We had over 300 submissions, proposals that were sent in, people who believed that this needed to be part of the Sustainia 100 catalog. These 100 solutions will be presented to world leaders in front of the Secretary General of the United Nations, a lot of high-level people. They will be presented at the Rio+20 Summit that will happen in about a month.

GB: Isn't there also an awards program?
LS: Yes, the Sustainia Award. The winner of the award will be announced by our honorary chair, Arnold Schwarzenegger, later this year in October. The next pillar focuses on building the model and the narrative. We have developed the first Guide to Sustainia, which presents a vision of this new society that we believe we could make a reality. The first Guide focuses on cities, homes, energy and transportation, but our goal is to add more chapters yearly. This October we'll include fashion, ICT, health care and resources. We're also doing Sector Guides, and the first Sector Guide will be on buildings.

GB: Our readers will be interested in that.
BF: Yes. I'm sure they know this, but the building industry holds fantastic potential. Today, buildings account for approximately 40 percent of our energy use, 70 percent of our electricity use, 40 percent of our carbon emissions, 65 percent of our waste output—it is a hugely important industry with huge potential.

GB: That's exactly right. What's the third pillar of your plan?
BF: We want to make sure Sustainia is more than something we write about in books, something we talk about on our Facebook, our Twitter and our Web site. Sustainia should feel like a virtual construction site, where we invite people with ideas to engage this vision further. In time, we hope to create a virtual universe, where people can see what it would be like to live in Sustainia—where they can explore various sectors and test various solutions on their own.

GB:We're doing similar things with our online efforts. Audiences are so fragmented, it seems like you have to come at things from many angles at once.
LS: We want to engage the business leader, the politician, the average Joe and Joanna, but also provide the means to measure progress on a country-by-country basis.

GB: How will you do that?
LS: With something called the Sustainia Index. The Index focuses on three main pillars: social, environmental and economic. We are measuring on approximately 18 different indicators, and it is the first time social practice is being included in an index. The way we work is to constantly engage people in our work and to get their input. So when we launch our Index, we want a discussion about the indicators. Are we including the right indicators? Are we getting as good a picture as possible? This will be the first time that we launch such an index. We need to get it just right so that we can do a credible annual ranking. This Index will include road indicators, economic potential indicators, resource consumption, natural assets, and also health, safety and opportunity indicators, so we include factors such as life expectancy, water availability, rule of law and other indicators we haven't seen before in an index focused on green growth or sustainability.

GB: What are your most desired outcomes from the Rio+20 Summit?
LS: Our key mission in Rio will be to demonstrate to people that we actually do have the solutions needed to realize a sustainable world. We fear that the Rio+20 Summit will be considered a failure if we don't end up with real concrete political outcomes. But if we can demonstrate the solutions, technology and collaborations that have happened over the last decades, it will be seen as a success. So that's our key message. We don't want to communicate with phrases such as "Now it's time to act," or "We need to do something about this challenge" anymore.

GB: You have a "future city" event planned at the summit that sounds quite unusual.
LS: Yes. We will invite people into the future of a concrete city—Copenhagen in this case. We will have about 200 delegates witnessing and getting introduced to how Copenhagen could look if we instituted sustainability principles. These are actually plans that the city has committed to, so this is their real political plan, and we are demonstrating to citizens what it would actually look like.

GB: What can companies and individuals do to become involved in this effort? What would you suggest as the first step?
LS: If you are a company, write to us and discuss your ideas. We would like to engage as many companies as possible—however, we are only interested in working with ambitious companies that share our vision, along with individuals. If Sustainia is not something that appeals to the larger public, we don't believe we'll get much further than we are today. So we need to make sure their input is used and we need to test our ideas among our community members.

GB: There are a lot of city planners and code officials, at least in the U.S., and probably in other countries as well, that are involved with the development of their cities. Is Sustainia open to working directly with these types of individuals to develop City Guides?
LS: Yes, we would be delighted to work with experts from various cities, taking into account their city, their culture, their challenges, their infrastructure. We've already engaged with some, but that's exactly the kind of expertise we need to put into place. We're also developing a map on what Sustainia would look like—sort of like a microcosm of the challenges we face in the world today, put into play on a physical map.

GB: Will it be possible to actually measure Sustainia's impact on sustainability?
LS: It will be very hard. Of course we would like to say that because of Sustainia, we've come this far in 2015. We just hope for improvements, developments—we want to do our very best, and we just want to do our very best to ensure progress.

GB: Will there specific lists of products and practices identified by Sustainia?
LS: That's part of our picture of identifying best practices out there. That's something you can find, to an extent, in our current Guide to Sustainia. But that's something we want to focus on more in our Building Sector Guide—that's where we want to put these best practices into play.
GB: How do you feel that your company could reach leaders in business or government who do not embrace a sustainable philosophy?
LS: That's a good question. People who don't care about sustainability for various reasons could get excited about saving and making money and excited about living a better life. A humanistic approach to sustainability is what we take.
GB: What sets Sustainia apart from other initiatives that are focused on city-level sustainability?
LS: Sustainia is not a city initiative. We include cities in our work but for us it's important that we don't look only at cities. We take a holistic approach to the challenges we're facing. I think what sets us apart is our inspiring, hopeful approach to sustainability. That's our whole concept. Basically we would like to collaborate with city initiatives, not to compete with them, but take into account what they have done as well.