This is the second in a series of articles about upcoming challenges and advancements in green city architecture, master planning and technology.
The topic of "The Future of Green Building" is continually evolving. Even since I wrote Part 1, there have been new developments to consider and include in Part 2, to bring these important green building issues into everyone's awareness.
Project management: From bids to job site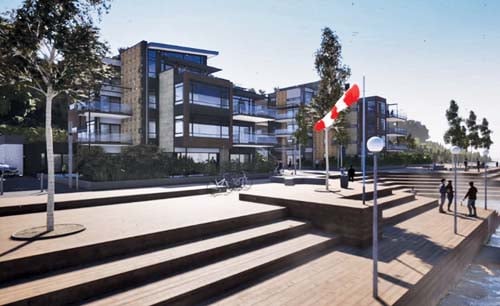 Graphicsoft's Archicad 23 software allows architects to easily create real-time, photo-realistic renderings of projects, helping them determine designs that work from ones that won't.
Courtesy of Graphicsoft
A future development is the coming incorporation of computer gaming technology into serious business tools. Using the actual computer gaming software's ability to design in 3D is being explored.
One example is the teaming of Graphisoft, the developer of Archicad, with Epic Games, the developer of Unreal Engine. Epic's new visualization solution, based on the recently acquired Twinmotion, will incorporate state-of-the-art, real-time rendering technology in coming versions of each of the related software programs.
"The same Unreal Engine that powers the popular video game, Fortnite, has been part of Twinmotion for years," says Marc Petit, Epic Games' general manager for Unreal Engine. "We are now very excited to work with Graphisoft to promote the use of real-time visualization solutions to help architects and designers visually communicate."
I saw this demonstrated at the 2019 AIA Conference on Architecture and was impressed with its potential.
Another example of computer game software technology making its way into the building industry is DIRTT Environmental Solutions, a modular wall manufacturer in Calgary, Alberta. One of the primary goals was developing software capable of providing a single, seamless experience from initial client concept through manufacture and delivery. Developers based much their software design on existing computer gaming software technology and capabilities.
According to Mogens Smed, DIRTT's founder and CEO, the company allows complete customization in design with its variable product offering. In upholding its "green first" initiatives, DIRTT uses only its ICE software and its output documents to communicate the available solutions.
Today, there are more than 90 partners, including architecture and design firms, using their ICE software as a visual sales tool and product design to complete specification and ordering. "ICE is so easy to use," Smed says. "The salespeople can actually design layouts in front of the client, who always feels engaged and empowered."
Disasters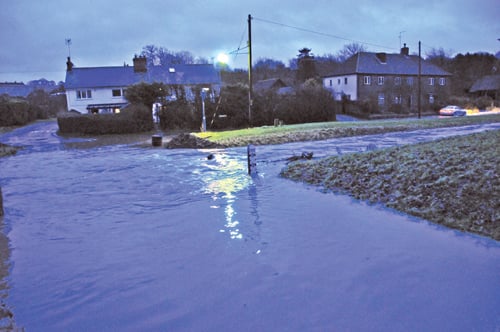 An ongoing series of natural disasters, such as mass flooding following a hurricane, means green homes must be more-resiliently designed. Keith Moseley/Flickr
The current fire danger situation in California brings attention to the vulnerabilities of homes and communities everywhere. Considering the range of potential disasters nationally—storms, hurricanes, tornadoes, floods, wildfires, earthquakes and droughts—designing and building green homes nationwide that take local dangers into consideration is a must.
In October Pacific Gas & Electric (PG&E), the major California utility, implemented the extreme measure of shutting off electrical energy to numerous communities to reduce the possibility of any electrical line or equipment on the power grid accidentally sparking and setting off a fire. This included 800,000 customers north of San Francisco and 300,000 customers around the San Francisco Bay Area.
The threat of fire danger is due to weather conditions—warm or hot dry air creating dry vegetation. This increases as the amount of available "fuel" (dry brush, plants and trees) continues to increase. For those that have beautiful, wooded landscapes with plants close to the home, proper green building can include taking into consideration the landscaping around a house that will reduce exposure to risk in the event of local fire danger. How we design green building to withstand and endure a variety of disaster-related situations should be on any checklist for green building projects.

Span.IO's electrical panel can monitor and control up to 32 household circuits, plus solar or battery inverters, EV charger controls and grid connect-disconnect, via a smartphone app.
Green builder homes in the future would also benefit from self-sufficient, renewable energy solutions for homeowners. This is certainly a feature that homeowners will seriously appreciate and consider.
New high-tech electrical panels
One area with great potential that I have been following for decades is further advances in electrical panels for homes. There haven't been many changes in the home electrical panel, but there are some products in development that may change that.
One company, Span.IO, has assembled a team with experience on the Tesla Powerwall project (home battery and electric car charger). They are currently developing an electrical panel for homes. This panel is now being tested in Hawaii and soon in California. The goal, according to CEO and founder Arch Padmanabhan Rao, is to "bring intelligence to a home's electrical system with a new smart electrical panel that was designed from the ground up with home solar, energy storage, electric vehicles and smart home tech in mind."
Rao says the company is excited to launch a product that will "accelerate the adoption of renewable energy, while transforming the customer and installer experience." Span.IO is initially partnering with leading solar installers in Hawaii and California, and the company has plans to ramp up production volumes in early 2020.
These are just a few of the most important examples of upcoming changes for us to be prepared to integrate into our future green buildings. I will continue to follow up with you in future Green Builder magazine articles.
---
Terry Beaubois is the CEO of Building Knowledge Systems, LLC, in Palo Alto, Calif. He is involved in research projects, articles, speaking engagement, and guest lecturing in university classes related to the Building Industry, with a specialty in advancing technologies and Green Building.
---