Netgear has left thousands of consumers stuck with malfunctioning Arlo cameras that can't be plugged in safely outdoors, while it moves on to a new model.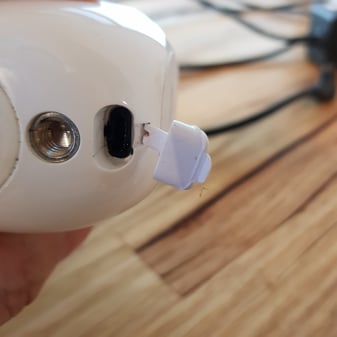 A couple of years ago, I installed one of those pricey, $400 Arlo camera systems with remote monitoring to keep an eye on my urban property. It came with a hub and four cameras, and a charger or two.

Arlos, in case you're unfamiliar, run on batteries, potentially for several weeks, if they're not triggered a lot. But my preference has been to leave them plugged in to their usb chargers. I don't see the value in any device that requires regular maintenance and babysitting. I'm busy enough without changing batteries in a bunch of gadgets that die at different intervals.

Sometimes the cameras work great. But too often, they remind me of that poem by Henry Wadsworth Longfellow: ... When she was good, She was very, very good, But when she was bad, she was horrid."

Well, the horrid moments seem to come more frequently with each passing month. I've had two or three cameras fail, one battery go dead, and replaced most of the power cables, with various after-market products. Now another camera has unexplainably failed. I've tried covering the cameras with little silicon condom-type jackets, with no noticeable improvement.

The company keeps upgrading the firmware for the devices, but I've seen no noticeable improvement in reliability from these "improvements."
But the real issue with the cameras may be one that's hidden in plain sight. In 2017, Netgear recalled its power adapters for Arlo, about 7,300 units. The recall was issued because "Water can leak into the weatherproof connector on the power adapter and cause a short circuit, melting, and overheating ..." That's a MAJOR technical problem. I've actually seen this happen on two of my cameras, where the housing melted around the cable entry point to the battery.
Rather than fix the problem and issue new, safe cabling (or recall the cameras entirely), however, Netgear left the cabling to aftermarket manufacturers and started working on a whole new model of Arlo, with new cabling methods.
In other words, they've attempted to sidestep their responsibility for the likely failure of their earlier outdoor camera products. That's irritating. We have every right to be annoyed. If you read the article above, you'll note that there's supposed to be a "recall" tab on their website that is no longer there. The issue has quite literally been shoved under the rug.
Arlo has just launched a new type of "magnetic" outdoor charging cable that's designed to work with "Arlo Ultra." Here's where current Arlo owners really get screwed. Almost nothing about the new camera system is compatible with our older system. They didn't fix the problem with their Arlos. They just ignored it and moved on. Here's what one user wrote about the new Ultra cameras:
The only thing that is compatible with the Ultra system that I know of are the wall mounts, (screw in type, not magnetic).

The Ultra camera is much larger than the older cameras so the older skins will not fit.

The batteries are larger and not compatible,

The magnetic mount is completely different and the Arlo camera no longer has the magnet in the camera.

The electrical connectors from the power cables and solar panels are now magnetic, not plug in.

The solar panel now has the cable permanently attatched in the panel and uses a magnetic connector.

The battery chargers are different to accomodate the larger battery.
I think Arlo's manufacturer needs to offer a free trade-in service on their old Arlos. It's a cheaper option than a class action lawsuit.
We send them our flawed and failing Arlo cameras and base stations with their outdoor vulnerability, and they send us a new Arlo Ultra set to replace it. Who's with me?
---