Intelligent controllers offer refined water management based in the cloud.
I'LL NEVER FORGET completing my first four-zone irrigation system, which ran off a battery-powered controller. When I pushed a button, I heard a delightful trickle as all of my landscaping plants were watered simultaneously. That's smart, I thought. But today's smart irrigation controllers put my little system to shame. Rather than running fixed schedules, they adjust to changing conditions, delivering just the right amount of water when and where plants need it.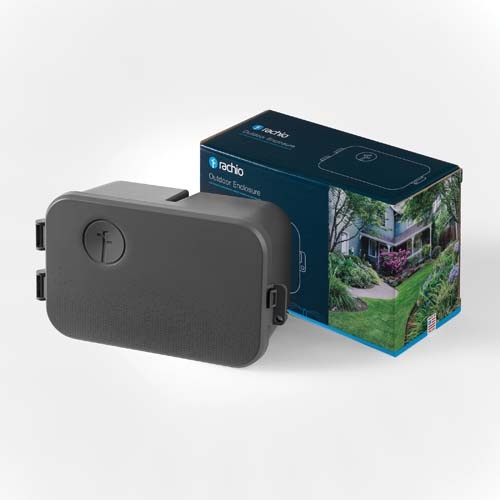 The second generation of Rachio IRO smart controller builds on user-friendliness; its integration with Alexa lets users control it through voice commands.
According to the EPA, WaterSense irrigation controllers can save up to 120 billion gallons of water—and $435 million in costs—annually. For the individual homeowner, that's 8,800 gallons per year.
Cloud Control
Weather-based smart controllers use evapotranspiration (ET) rates to calculate how much water plants need on a given day. ET is the sum of the water lost from the soil through evaporation and through use by plants (transpiration). In simple terms, the water that goes out must be replaced, either by rainfall or irrigation water. To make calculations, controllers can rely on sensors which take onsite measurements of temperature, humidity and rainfall, or they can access historic or real-time local weather data. Other smart controllers adjust irrigation schedules based on direct measurements of soil moisture. Some do both. For example, Spruce, a just-released 16-zone controller, relies on both weather forecasts and rainfall data and its own wireless soil moisture sensors to adjust schedules. Users can specify landscape type for further refinement.
Today's most advanced smart controllers allow users to refine irrigation schedules by adding detailed, zone-by-zone information, such as whether the ground is flat or sloped, sunny or shaded, the types of sprinkler valves and they type and density plants in the zone. Rachio IRO includes a SmartCycle feature, which adapts watering schedules based on soil type. For a clay soil, for example, the controller delivers water in several cycles, to ensure it has time to absorb the water. The newer controllers can also be accessed and controlled remotely.
Rebates and Incentives
Several municipalities offer rebates for smart or weather-based irrigation controllers. Not surprisingly, California has the most programs in place. For example, the SoCal Water$mart program, residential customers can qualify for an $80 rebate for a smart controller. Outside of the Golden State, Southern Nevada Water Authority customers can get a coupon that pays for half of a new smart controller (up to $200).
CyberRain, which offers several WaterSense-qualified controllers, maintains a database of rebates organized by state.


"The big difference now is that the IRO can be controlled by an app on your phone," says Chris Klein, CEO of Rachio. "It's Internet-connected, and the technology is in the cloud."
Along with access, user-friendliness is an important selling point in a crowded field. For example, the intuitive, graphical interface for the BlueSpray controller allows the user to set up new zones by clicking and dragging icons.
Feedback is also important. RainMachine, a WaterSense-qualified controller that has earned favorable reviews on Amazon, includes a gauge that displays how much water has been saved in the last week, month or year.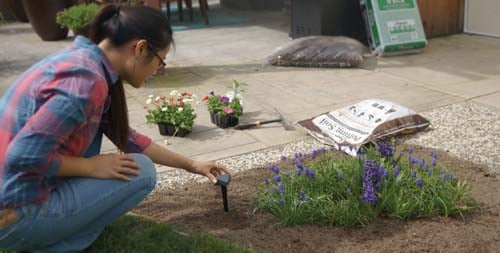 The Spruce smart controller uses daily weather data along with wireless moisture sensors to adjust, postpone or start watering.
Plug-ins and Add-ons
If you're not ready to give up your current irrigation controller, you might be able to boost its IQ. For example, the HermitCrab from ETWater converts a conventional controller into a smart controller; it works with many models from several major brands. The user must access the ETWater Manager online and enter site information, but then the HermitCrab takes that data along with daily local weather reports to create updated irrigation schedules. In addition to its line of smart controllers, Hunter offers Solar Sync, a plug-in available in both wired and wireless versions, which measures sunlight and temperature to calculate ET; it then sends a "seasonal adjustment value" to the controller, which modifies the irrigation schedule accordingly.
Add-ons include soil sensors and simple weather stations, which can be used to manually refine irrigation schedules on a conventional controller. Edyn, for example, is a solar-powered wireless sensor that measures temperature, humidity and soil moisture; it is compatible with Samsung's SmartThings platform.
Good (Water)Sense
Controllers that qualify for EPA's WaterSense label include several water-saving features:
Allow zone-by-zone control.
Retain settings if the power goes out.
Send alerts when the system malfunctions.
"Percent adjust" feature allows user to change amount of water delivered to a zone by adjusting it to a percentage above or below programmed amount. Original values are preserved.
For a list of all WaterSense-labeled controllers,
visit http://1.usa.gov/1PGu2T1
The Whole Ecosystem
Is your smart landscaping system compatible with your smart home ecosystem? Companies that have anticipated this question are one step ahead. The second generation of Rachio IRO, for example, integrates with Amazon Echo and Alexa, adding to a long list of compatibilities, including Nexia, Wink and Control4. It also integrates with Nest, and includes a fire protection feature: If Nest Protect detects smoke inside the house, Rachio starts cycling through the sprinkler zones outside, to help prevent the fire from spreading.
The Spruce smart controller and sensors were designed for Samsung's SmartThings platform, so if you already own the hub, Spruce can simply be added to "Things" and then be controlled via the SmartThings app. ETWater has taken a slightly different approach with its Unity open platform, which integrates with Apple's HomeKit and other platforms. Right now, the Unity controller is the main product available, but ETWater anticipates adding other features and devices to control landscape lighting, track tools and more.
---