As a way to put devices from different manufacturers under one control hub, Z-Wave rises to the task. But don't expect a big range bump.
For off-the-shelf products, the Z-Wave wireless protocol often gets a call out as a more reliable, secure form of wireless. It differs from typical wireless systems, in that it operates on low-frequency radio bandwidth, specifically in the 800-900 MHz radio frequency range.
Another appealing aspect of Z-Wave communication is that many smart tech companies offer one or more products that can "talk Z-Wave." So if you already own other Z-Wave products, such as a thermostat and smart outlet, but you want a whole-house suite of products that work under one controller, you don't need to toss out what you already have.
Assembling a Z-Wave Suite
We've often used and tested wireless smart home tech at Green Builder, especially in our many VISION HOUSE exhibition projects, but never really zeroed in on the Z-Wave protocol. I was curious about how mature this technology has become, and wanted to compare it with the known performance of Wifi products.
For the centerpiece of my Z-Wave suite, I selected a small company called Delaney Hardware out of Georgia, a relative newcomer to integrated smart technology.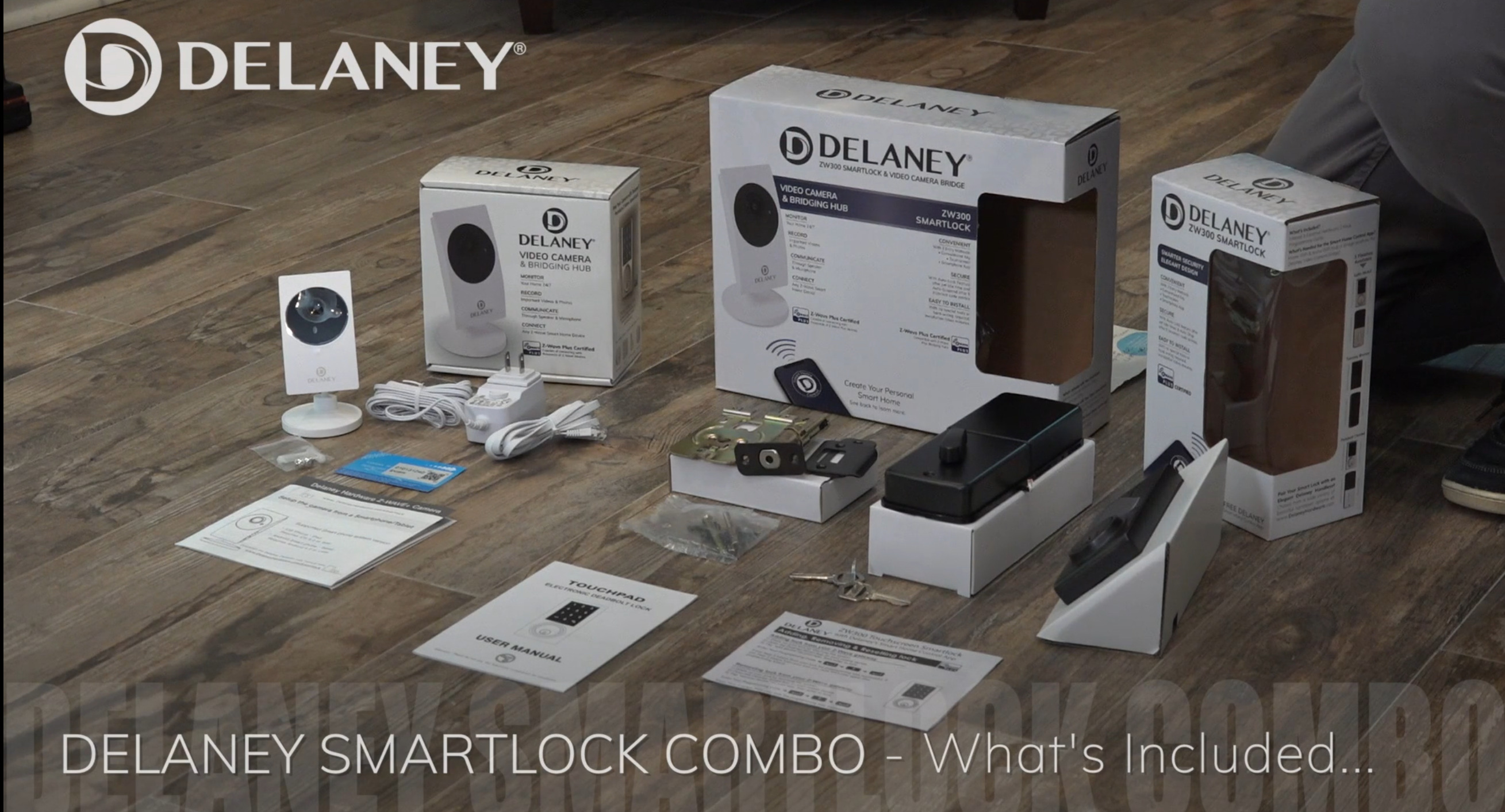 I like Delaney's mission statement and "core values" approach to doing business. They seem to be making earnest efforts to tighten up their operations and reduce environmental impacts. They've been manufacturing a wide variety of sturdy hardware for some time. So the fundamentals for solid products are already in place.
What Delaney offers is a simple "two-fer" combo package that includes their ZW300 Touchscreen Smartlock, along with an indoor camera that doubles as a Z-Wave Hub.
Up and Running
Once I installed Delaney's app, I found the interface with various Z-Wave products pretty simple. The key is to review the company's list of compatible products BEFORE you jump on Amazon and start ordering any old Z-Wave gadget.
I spoke directly with one of their back end programmers. They are rapidly expanding the hub's compatibility with other Z-Wave products. I had a couple of minor clarifications in setup to work out with them, so I called them a couple of times, and had a good experience. I felt like I was dealing with other human beings, not some poorly trained call center minion.
The Delaney App is fairly simple and intuitive. You connect a "device" to the network, then establish a "scene," which is basically an "If-Then-When" logic tree. If someone opens the door lock when you have set an "away" scene, then a light turns on, and you get an email alert.
I found that by pairing the hub with various low-cost products, I could set up a low-budget security system that requires no contract for monitoring. So, for example, in the away mode, if the indoor camera detects motion, it sets off a couple of outdoor flashing alarms and sirens to let my neighbors know I have an unwanted visitor, and sends me an email. Each of the alarms cost under $40, and one of them is battery powered, with batteries that last 6 months. In addition, I put in a First Alert smoke detector that also sends me an alert the moment it senses smoke or carbon monoxide.
Realities of Range
One reason I wanted to try Z-Wave is that I've had mixed results with Wifi smart tech for longer distances. For example, I've found that Wemo switches tend to get very finicky once you get more than about 50 ft. from 2.4 GHz wireless router. In my experience, they still work—even at 75 ft., but you often have to hit the on/off button in the app two or three times to change the device status. This isn't a big deal, except when you are trying to create a schedule, such as automating a pool pump. The automated command (in my experience) won't have a strong enough Wifi signal to run the schedule.
Obstacles between the wifi router and the devices make a difference in signal strength, and you can certainly put in a range extender as a workaround. But what if Z-Wave could simply solve the problem by default, with greater native range and reliability?
Unfortunately, it doesn't,and it can't based on my field test. For example, I replaced one of my far-flung Wemo switches with a GE Z-Wave Outdoor Smart Switch. This product's specs say it has up to 100 ft. range, but at about 75 ft., the Delaney Hub could not make contact with it at all (even after having been added to the Z-Wave network at short range).
I then tried the switch at even closer range, about 45 ft., albeit within a separate outbuilding made of concrete block. Again, no Z-Wave controls, whereas the Wemo Wifi products work fine in that configuration.
Part of the problem is that the range of Z-Wave devices leans on the fact that they are "repeaters." Each device becomes its own broadcaster. But if you have a large area without a device (as I did), that range boost won't do any good.
A Few Tweaks
Aside from the range issue, however, my field test of the Z-Wave system with the Delaney Hub gave me a lot of confidence in the Z-Wave approach. For a modest cost, I was able to set up a reliable and affordable home network of smoke alarms, security alarms, lighting commands and remote-controllable door locking/unlocking with minimal hassle.
I'd like to recommend a few minor tweaks to the Delaney folks that would make their Z-Wave setup even better—an ideal entry level set of products for builders or homeowners looking for a turnkey smart system that doesn't require an expert for installation.
Camera Off. The hub doubles as a camera, but it sometimes feels a bit invasive. For example, if you're renting a house on AirBnb, but you want to leave your camera/hub operational, your guests need to know the camera is NOT recording them. Perhaps a physical on/off switch on the front of the camera that does not deactivate the Z-Wave hub?
Door Lock Protocol. The Delaney smart lock includes a two-stage process for entering, presumably to add extra security. A bunch of random numbers pop up on the screen and you have to hit them all before you can enter the real security code. This is way too time consuming. Get rid of this step.
Range Enhancement. I'm not sure what the best solution to the Z-Wave range issue is, but one option, for example, might be for Delaney to offer a simple range extender as part of their combo package, a repeater device that simply plugs in as an intermediary for situations such as mine.
I'll return with an update if/when Delaney makes some of these tweaks, or perhaps offers instruction on how to override them. In the meantime, I encourage you to explore the growing universe of Z-wave devices. Also, be sure to check out Delaney's website. Along with the smart tech, they offer some handsome and durable hardware.
---