Cars are gradually becoming part of the sharing economy, but how far will this challenge to traditional two-car lifestyles go?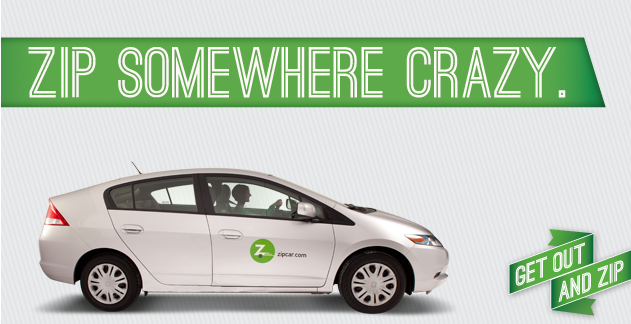 As the carsharing industry evolves, shifts and changes, many traditional businesses are angry, and many municipalities are regulating sharing services. And. of course, insurance companies are weighing in, too. There are a lot of cogs and a lot of hands (many asking for money) cranking up the wheels of change.
There are not only several car sharing companies competing in many major cities around the globe but traditional car rental companies are also getting into the act. For example traditional car-rental company Avis bought what might be called the granddaddy of car sharing, the 15-year-old ZipCar for a purported $500 million dollars. And then there are the quasi cab companies like Uber and Lyft in which owners defray their car ownership costs by driving personal cars when they are available and get linked to paying customers by apps.
With this last ridesharing form of transportation, cabbies are protesting. Some municipalities and airports have outlawed car sharing companies such as Uber. Some are insisting that Uber drivers are not independent contractors but rather employees. Other cities are claiming Uber drivers are cabbies and wanting them to get licenses and pay fees. And insurance companies? If you want to be a Uber driver read your insurance policy carefully, you might need different insurance.
Carsharing wars just beginning
An article a few days ago in GreenBiz argues that carsharing wars are just beginning, especially as the world of transportation choice expands to electric and self-driving cars.
The article featured an interesting chart that also puzzled me. It outlined various sharing models. My experience with car sharing in Washington, DC, indicates there is little to nothing new about the one way rental in which one picks up a car at one location and drops it off at another. ZipCar in the District (now owned by Avis) has long been similar to bikesharing. Even Avis, in its days as a totally traditional round-trip car rental company did not mind or charge extra when a renter wanted to rent in one DC location and return the vehicle to another. In the District, the car sharing model has long been for the consumer to reserve a car (often these days by app), go to the nearest location, rent for several hours, several days, or more and return the car to any other designated location -- either the same place picked up or someplace else. Company personnel shift cars as needed just as they do with the bike sharing services. Apparently the model has varied from city to city. Some cities consider being able to return a car to a different location a new feature, according to GreenBiz.
Berkeley's Transportation Sustainability Research Center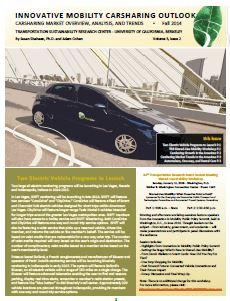 GreenBiz spoke to Susan Shaheen, director of Innovative Mobility Research at the University of California, Berkeley's Transportation Sustainability Research Center who said there has been a slight decline in carsharing, something she cited as changes among the players rather than a diminution in demand.
As to how the economic model would change, she said, "You're taking a fixed cost — auto ownership — and turning it into a variable cost." I'm not sure everyone does the math. However, I do not think whether to own or not is always but economics but rather about freedom.
Years ago, I decided that if I spent less than $300 a month on transportation -- buses, trains, taxis and car rental -- that I was better off being car free. Consumer Reports says annual car ownership typically runs between $7,800 to $9,100 a year depending on what car you own and whether you keep it for five or eight years. Thus now it likely costs between $650 and $758 a month to own a car. I have a DC friend who also did the math and decided to sell his car but later decided that he really wanted his own car. I see the appeal of being car free as more of an urban one than a suburban one, but then so do the carsharing companies, which are largely based in cities.
Who needs a driver?
When self-driving cars get approved and gain riders' trust, the question may become who needs a driver at all? One can imagine a world in which the elderly, those with disabilities and those who are blind or hearing impaired own a vehicle in which they with little effort get from home to a programmed destination in a driverless car. Equally plausible is an evolution in the way one rents or share cars. As pedestrians can use an app, it is possible that shared and rented cars and even cabs and Uber-like services may arrive sans driver to deliver the person who has summoned the vehicle via to a destination.
Millennials out number Boomers and will change the globe
There are two other things to consider. In a green lifestyle, carsharing has appeal as a way to reduce resource use. The other is that many Millennials have postponed getting a license, prefer urban areas and aren't so in to buying and owning cars.
NPR quoted Jill Hennessy, clinical professor at the Kellogg School of Management at Northwestern University, Evanston, IL. She said, While Millennials "do still want to own a car — not as much as they want to own a smartphone, by the way, that's the physical possession they're most attached to — they are thinking about, 'Do I need a car or not?' in a way that I think five years ago or 10 years ago we wouldn't have seen to the same extent."
It's not just cars that millennials question owning, NPR said. "Nearly any possession you can think of stopped being an 'of course' and became a 'hmmmm' for Millennials." According to a June release from the U.S. Census, Millennials outnumber Boomers. "Millennials, born between 1982 and 2000, now number 83.1 million and represent more than one quarter of the nation's population. Their size exceeds that of the 75.4 million baby boomers," according to new U.S. Census Bureau estimates released June 25th. "Overall, millennials are more diverse than the generations that preceded them, with 44.2 percent being part of a minority race or ethnic group."
Millennials are the future, and to me that means lots more sharing.
Links:
GreenBiz article about why the carshare wars are just beginning.
University of California Berkeley Trasnportation Sustainability Relearch Center.
Consumer Reports article on costs of car ownership.
NPR feature about Millennials ditching cars.
U.S. Census Bureau says Millennials outnumber Boomers.
YouTube Video of ZipCar
---