As cities around the world have grown ever larger, traffic congestion has become a global scourge, wasting enormous amounts of time and fuel, fouling urban air, and reducing quality of life for drivers and non-drivers alike. And the problem is only getting worse. Reports of epic traffic jams, sometimes lasting for days-on-end, are increasingly common around the world. It is evident that we need new ways of moving people around cities.
But what is the solution? Underground subway systems, while tremendously efficient at moving people, come with an astronomical price tag, often topping $200 million per mile. Although light rail costs much less, it is still expensive. In a time of municipal belt tightening, many cities just can't afford such systems.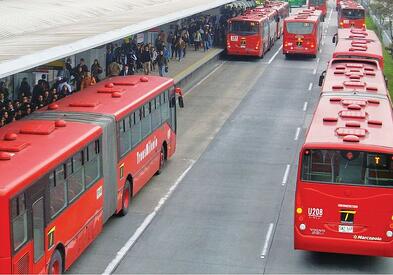 Forty years ago, the leaders of Curitiba, a medium-sized Brazilian city with a tight budget, pioneered an alternative. Known as Bus Rapid Transit (BRT), it essentially reimagines the bus as a train, with dedicated lanes to separate buses from regular traffic, more frequent service on each route, enclosed stations and pre-paid ticketing so passengers can board through multiple doors simultaneously, and elevated boarding platforms to further speed the boarding process.

BRT transformed urban transportation in Curitiba and created a model for the rest of the world of fast, reliable and comfortable public transit at a reasonable cost. According to a 2001 study by the U.S. Government Accountability Office, the average capital cost per mile for BRT systems was just $13.5 million, compared with an average of $34.8 million per mile for light rail, and much more for underground systems.

Other cities have started to emulate Curitiba's success, and today many variations on BRT have been implemented around the world—from Guangzhou to Delhi, from Paris to Mexico City—even some U.S. cities are starting to experiment. Some enhancements that have emerged along the way include signal priority (so traffic lights turn green as the bus approaches), real-time signs to inform when the next bus will arrive, extra-long coaches that can carry 200 passengers, and seamless integration with other transport options, such as bicycles. Some systems even offer free Wi-Fi, so people can work online during their commute.

Ten years ago, Bogotá, Colombia inaugurated what many consider to be the most advanced BRT system in the world: TransMilenio (shown). It has succeeded beyond its proponents' wildest dreams—and now carries 1.7 million passengers daily at an average speed of 22 miles per hour. If that doesn't sound fast, consider that the average speed of an ordinary New York City bus is about 6 mph. The average TransMilenio rider saves about 40 minutes on a round trip commute, compared with driving, which explains why 20 percent of the passengers are car owners who simply prefer to take the bus.

Many would agree that in the United States, traditional city buses have an image problem: slow, infrequent, unreliable. The lesson of BRT is that there is a better way. If you make taking the bus more attractive than driving, people will ride and the city will move.
---