Insulating your roof, walls and foundation will also insulate your wallet from the high energy cost of heating and cooling your home. This one-time investment will save you money for decades.
IF YOU'VE EVER opened up the wall of a home built before about 1950, you've probably been shocked to find little or no insulation—or at best some crumpled newspapers. And even the earliest serious attempts at insulation with fiberglass look quaint now. Cavities were often only partially filled. Water from outside often leaked in around windows and doors and damaged the insulation. Of course, homes were so leaky prior to the 1960s that walls dried out quickly, so mold wasn't a big problem. The rules of the game are very different today. Homes are built tight—with no tolerance for sloppy insulating.
Building scientists (a new breed of experts) now have a deep understanding of how insulation works. They've learned that factors such as air infiltration, dampness and age can dramatically affect performance.
But they also recognize that insulation is part of an energy-saving system, not a standalone solution. Good results can be achieved with any insulating material, if it's combined with the right housewraps, tapes and construction details. Here's an overview of the latest advances in insulation technology.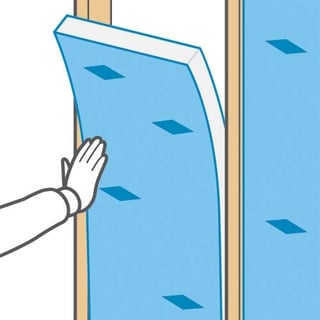 Fiberglass: Installer Friendly

Fiberglass insulation in batt form is probably the most familiar insulating product. Changes in recent years have affected the composition of chemical binders that hold the product together, along with the size of the glass fibers. Many brands have removed or reduced toxins such as formaldehyde from their products. Some of the largest manufacturers of fiberglass products now offer hybrid systems that include an air-sealing component. They have improved the performance and handling of blown-in fiberglass, and added to the percentage of recycled content in all product lines (up to 40 percent).
Virtues
Renewable and recyclable
Familiar to contractors
Field proven for decades
Caveats
Requires careful installation
May need an additional air infiltration barrier
Spray Foam: Filling Every Void
Insulating walls and ceilings with spray foam is relatively expensive, typically more than twice the cost of fiberglass batts, and most often it's a job best handled by pros. Why is foam green? Not because of what's in it. Even the most eco-friendly brands replace only a small percentage of their petroleum-based chemical mix with biological products such as soy. But the energy performance of foam is hard to beat. Some brands offer insulating value of more than R-6 per inch, at the same time sealing against air infiltration. This makes spray foam a dual-duty system, ideal for both new and retrofit construction.
Virtues
Fills gaps and cavities completely
Provides its own air barrier
High R-value per inch
Caveats
More expensive than competing products
Requires special equipment/skills to install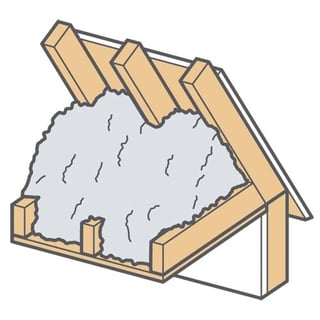 Cellulose: Paper Trail
Cellulose has a good green story to tell, especially from the manufacturing side. It's made primarily with recycled paper, typically newspapers, and most brands are treated with boric acid as a fire retardant. Research on the health effects of boric acid suggest that it is a minor irritant in small doses. Cellulose can be installed wet or dry. If installed wet, it should be allowed to dry properly before covering with drywall (typically less than 48 hours). The insulating value of cellulose is about the same as blown fiber glass (roughly R-3.7 per inch).
Virtues
High percent of recycled content

Little to no toxic offgassing
Relatively easy to install
Caveats
Must be installed carefully to fill all gaps
Wet products can be problematic if not allowed to dry properly
Mineral Wool: Nothing to Burn
Although mineral wool looks like fiberglass, it's made from basalt rock and slag, not glass. The resulting product, either batts or loose fill, is non-flammable, requiring no chemical flame retardants.
As a result, offgassing emissions tend to be low. Mineral wool includes high levels of post-industrial recycled content waste (up to 90 percent), reducing the environmental impact of its production. Rigid exterior insulation made from mineral wool is now becoming available, as well.
Rigid Foam Insulation: Water Resistive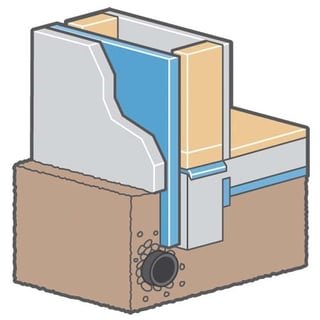 You may have seen contractors in your area putting green or blue insulation right over the wood siding of an old house. Chances are, they're applying extruded expanded polystyrene (XEPS) or polyisocyanurate closed-cell foam. Both products are dense and durable. Some building experts suggest that foam used this way can an act as water resistive barriers (WRBs), negating the need for housewrap, but we recommend playing it safe and using
housewrap as well. Rigid foam also is a good choice for insulating basement walls. GB
Virtues
High R-value per inch

Seals against air infiltration
Good solution for basement walls
Caveats
Some brands may shrink over time
Producing synthetic foam is a resource-intensive process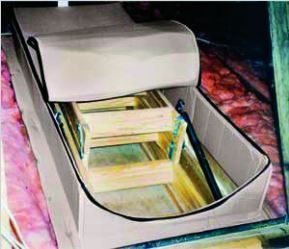 Using a reflective material to cover stair openings, the Attic Stairways Insulator by Owens Corning helps to reduce seasonal heat loss and gain.
Fixing a Hole with Attic Caps
While no one seems to have exact figures, third-party testing suggests that some brands cut attic air infiltration by 70 percent.
The ready-made systems, such as Owens Corning's foil-covered Attic Stairway Insulator (R-10; $54), are almost effortless to install. Systems like those offered by Owens Corning work well in attics, where traffic is infrequent. In homes where the homeowner trucks in and out of the attic every day, however, other products offer more flexibility. For example, a rigid foam system such as the Energy Guardian (R-38; $185) has a removable foam top. The lightweight Attic Tent (R-3.2; $200) seals tightly with zippers.
So, how much energy do attic caps really save? Attic Tent estimates about a 20 percent annual heating/cooling reduction. The products also reduce unwanted air infiltration, offering other "green" benefits, such as keeping dust and pollutants out of living areas and reducing drafts.