Smarter, cheaper and more popular than ever, the tankless water heater is ready to give its old-school, storage tank cousin a lesson in energy efficiency.
Not surprisingly, a lot of money is wasted with storage tank systems. Energy Star estimates that a household that uses up to 40 gallons of hot water daily can cut its bill by about 34 percent—about $100 per year—by going tankless.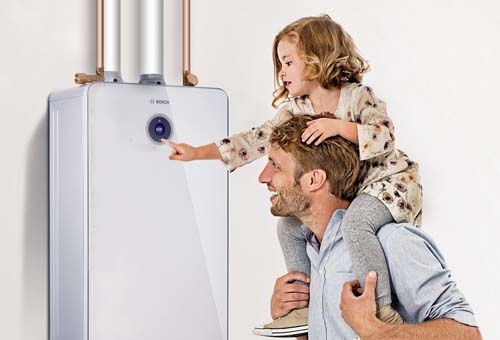 Consumers like the Greentherm 9000 Series' compact, stylish design, which in turn has made life happier for retailers and installers.
But consumers aren't the only ones to benefit from the shift to tankless. Retailers and installers are seeing positives, especially as the product has evolved. Bosch Thermotechnology Corp.'s newest line of gas condensing tankless water heaters—the Greentherm 9000 Series—takes the evolution further by solving some of the tankless industry's longstanding limitations.
Money Matters and More
Tank-style water heater advocates have long stressed how the price of a tankless unit—historically up to three times more than tank storage versions—offset any monetary savings. That argument is quieting a bit due to recent changes in industry regulation. In April 2015, the National Appliance Energy Conservation Act (NAECA) upped Energy Factor (EF) standards for gas-fueled tank storage heaters by 20 percent. New models require a minimum EF rating of 0.82, up from 0.62 for earlier units. This places tankless well ahead of traditional storage models, which saw EF score requirements improve to no more than 0.75, regardless of the tank's capacity.
This change had a double impact on tank-type products. Making the units more energy efficient often resulted in bulkier units, and their price increased by about 17 percent to 20 percent. The two types of water heaters are now closer in price, and tankless has effectively become a better buy due to its superior energy efficiency.
Greentherm's Energy Factor of 0.99 and Thermal Efficiency rating of 100 percent are tops among gas condensing tankless water heaters.
One of the tankless water heater's key selling points—its smaller, space-saving size—has become even more pronounced as tank-style units become larger and more cumbersome to transport, carry into homes, and install into tight spaces.
Tankless water heaters can also be easily integrated into smart home setups—another consumer desire—and may be controlled remotely or via mobile apps that also manage appliances, security systems and thermostats.
And, tankless water heaters are also further in line with tighter nitrogen oxide (NOx) emission standards at federal and state levels, compared with storage water heaters.
These factors are expected to continue to boost popularity of the gas tankless condensing water heater market for several years. Navigant estimates that tankless unit sales in the U.S. will increase by nearly 75 percent—from $399 million in 2015 to $698 million by 2020.
Going with Greentherm
The Bosch Greentherm 9000 Series offers nine gas-fueled models for high-efficiency, Energy Star-rated hot water generation in residential applications. These units were designed to surpass federal minimum energy-efficiency requirements and offer top-level performance, comfort and homeowner control.
Greentherm's EF of 0.99 is the industry's highest, as is its 100 percent Thermal Efficiency rating. A user will typically save up to 40 percent in annual energy costs versus using a tank-type water heater.
A general shortcoming of tankless-type units has been the ability of the unit to keep up with hot water demand when multiple devices—such as a washing machine, dishwasher and shower—are running at the same time. Greentherm's advanced technology solves the problem by seamlessly controlling output capacity. This optimizes comfort and efficiency by combining the burner's pulsating mode with the bypass valve to achieve the desired outlet temperature, even at low flow rates. Its wide operating range—between 9,000 and 199,000 Btu—saves energy when hot water demand is low by eliminating short cycling.
The new Greentherm units also offer integrated Wi-Fi control—an included feature on the 9000i SE model and an option with the other models—allowing owners to control water heater functions via a free mobile phone app and receive live performance monitoring, real-time remote diagnostics and troubleshooting notifications.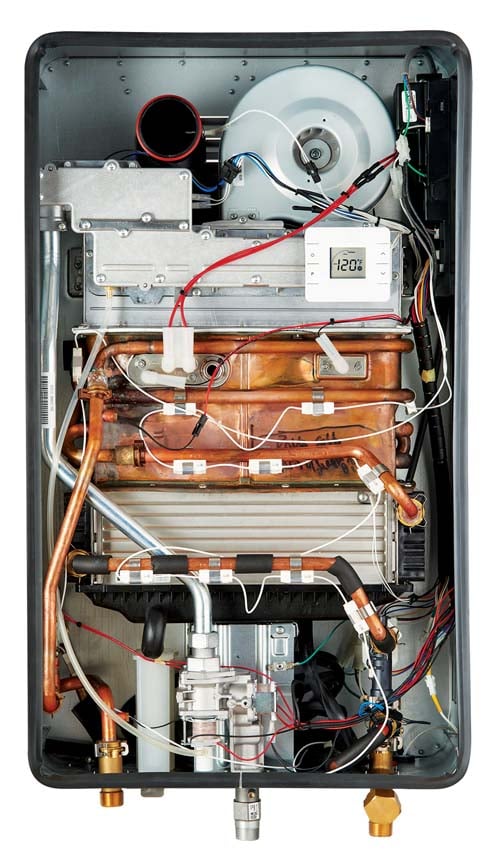 Design improvements make it possible to install a Greentherm 9000 unit at a speed rivaling most tank-style water heaters.
An active bypass provides superior temperature stability and eliminates the need for a buffer tank, even with varying flow rates and supply-water temperatures. Water temperature is maintained at plus or minus two degrees Fahrenheit due to the active bypass function.
A standard built-in recirculation pump in the 9000i SE model, which is optional on some other models, allows easy plug-and-play installation of a home recirculation system. This also provides faster delivery of hot water to outlets, and prevents up to 11,000 gallons of water per year from being wasted. Because no dedicated hot water recirculation return line is required, this model can be installed in virtually all existing homes.
Greentherm units are expected to last far longer than their tank-type counterparts. While a conventional water heater typically requires replacement every 7 to 10 years, the tankless model could last up to 20 years with recommended annual maintenance. The lifespan is aided by a primary copper heat exchanger and a secondary stainless steel unit to minimize scale buildup.
In and Out in a Few Hours
Other features of the Greentherm 9000 Series makes life easier for installers—a primary goal during product development, according to Freddie Molina, tankless product manager at Bosch Thermotechnology Corp.
Typically, it takes up to three hours to install a tank-style heater and up to five hours for most other tankless units, according to Molina. But replacing a storage tank model with a Greentherm unit takes significantly less time, thanks to design improvements that make installation a plug-and-play affair.
Greentherm units are smaller, which makes them suitable for installation in numerous locations in any home. It also simplifies work for installers, who are not replacing a bulky water heater with an even bulkier one. The tank's Roundagon DNA design gives it a sleek, rounded-corner appearance that easily integrates into modern households.
Indoor Greentherm 9000 units have top-mounted cold- and hot-water connections, similar in placement to those on tank-type heaters. Installers can use three-quarter-inch or half-inch gas lines (as designated by local and national codes).
Each model includes a manifold injector kit for quick conversion to LP gas if needed. A built-in touchscreen control speeds the conversion process and eliminates lengthy setups caused by complex dip switches found on other manufacturers' tankless units.
The patented Optiflow combustion management system offers dynamic CO2 control and automatically adjusts for various installation conditions, including flue length and altitude. This eliminates the need for a combustion analyzer in most typical installations.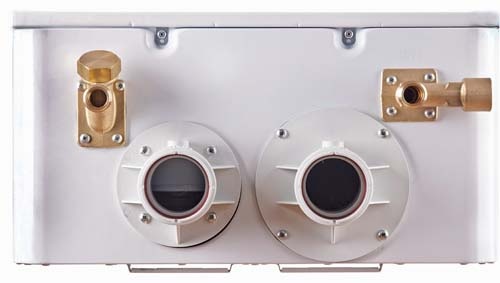 Top-mounted cold- and hot-water connections make the indoor Greentherm 9000 unit easier to install when replacing a tank-style water heater.
Installation allows up to 60 feet of venting with two-inch pipe, or 280 feet of venting with three-inch pipe, using a wide range of venting material options.
Built-in drain ports, an anti-freeze kit and an atmospheric pressure sensor cut down on installation time and eliminate the need and extra cost to buy additional accessories.
There are dedicated models for indoor or outdoor installation. No outdoor vent kits need to be stocked or installed.
Here's Looking At You
Although new to the market—the product was announced in January—Greentherm and Bosch have already received praise from the green products industry.
In December 2016, the Greentherm 9900i SE was named a CES 2017 Innovation Awards Honoree by the Consumer Technology Association. Such products "reflect innovative design and engineering in some of the most cutting-edge tech products and services coming to market," according to CTA. The Greentherm 9000 line was displayed at CES 2017 in January.
In March 2016, Bosch was named as the No. 1 preferred provider of tankless hot water systems in Green Builder Magazine's Readers' Choice Awards. The company also ranked No. 2 in environmental stewardship; third in greenest appliance products; and fourth for greenest heating, ventilation and air conditioning products. Bosch Greentherm 9000 was selected by the GBM editorial team as a 2017 Hot 50 Product.
With all its innovations and crafted design, the Bosch Greentherm 9000 Series tankless water heaters are an advancement in hot water efficiency and comfort.
---
© 2016, Green Builder Media. All rights reserved. This article is the exclusive property of Green Builder Media. If you would like to reprint this content, you are free to extract a short excerpt (no more than 1/4th of the total article), as long as you 1. credit the author, and 2. include a live link back to the original post on our site. Please contact a member of our editorial staff if you need more information.