Robert Bosch LLC is developing a direct current (DC) microgrid in a Honda parts distribution center that will connect solar arrays to DC-based energy storage and loads.
ROBERT BOSCH LLC MAY SOON be changing the solar energy game. In February 2015, the California Energy Commission announced a $2.8 million grant award to the Farmington Hills, MI-based company to demonstrate a high-penetration, renewable microgrid.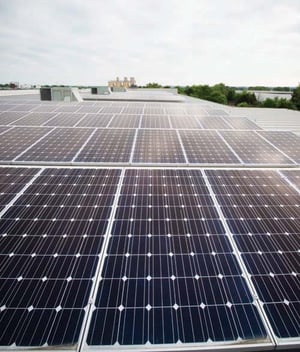 One of the goals of Bosch's DC microgrid project is to demonstrate onsite solar energy that doesn't negatively impact the utility grid.
With the grant money, Bosch will procure and install its newly developed direct current (DC) building-scale microgrid platform in the American Honda Motor Company parts distribution center in California.
"The project involves incorporating a solar photovoltaic (PV) array on the rooftop and connecting it directly to lighting, ventilation and other major electrical loads in the facility on a direct current bus," explains John Saussele, project director, building grid technologies at Robert Bosch LLC. "We will convert the lighting and the ventilation within the building to operate on direct current and will add a large amount of battery storage capacity, in order to demonstrate the advantages of a DC connection between all these devices and the PV array." Such advantages include improved energy efficiency when utilizing renewable sources, higher reliability and the ability to operate during a blackout.
The DC microgrid project is slated to commence development in 2016. In the meantime, Bosch is working on other demonstration projects.
"We are currently in the process of completing another project that we won in 2012 from the Department of Defense," says Sharmila Ravula, director, business development at Robert Bosch LLC. "We are installing our DC microgrid at Fort Bragg in North Carolina and should have that completed in the next month or so." Another installation, completed last year at a facility owned by Livingston & Haven, a Bosch partner, also connects solar to lighting and ventilation on a DC bus.
MULTIPLE BENEFITS
Bosch's project at the Honda facility will showcase the company's next-generation advanced microgrid technology, one that will include having solar and energy storage all connected to loads within the facility. "With the additional energy storage on the DC grid, we can incorporate a lot of other features, like providing back-up energy. We can also do peak load reduction and demand response," Ravula explains. "During peak hours, we can reduce the amount of building load by using energy discharged from flow batteries, which are charged using excess solar energy during the day. For the California project, we are also using ultracapacitors to absorb the PV variability and reduce the fluctuations in the output of the energy from the onsite solar array."
To achieve their goal of showcasing the microgrid's ability to promote a higher penetration of distributed solar, Bosch has teamed up with several partners. Imergy Power Systems is providing flow batteries for the DC microgrid.
"Imergy's batteries are very cost competitive for long-duration energy discharge occupations, such as peak load reduction and backup," says Ravula. Maxwell Technologies is set to provide the ultracapacitors that will give benefits to short-term storage. The lighting and efficiency gains from the project will be validated by the California Lighting Technology Center, a part of UC Davis, as well as by Navigant Consulting.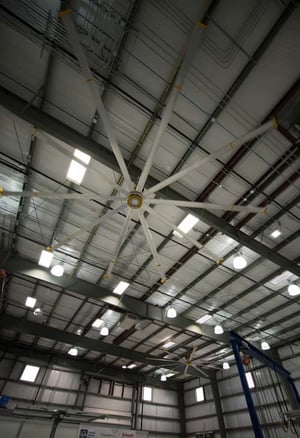 Bosch LLC is already demonstrating a direct current microgrid, which connects DC lighting and DC ventilation to a solar array, in a facility owned by Livingston & Haven.
PROVING GROUND
In terms of learning, Ravula says that Bosch hopes to prove that their estimates for energy savings and increased solar energy utilization are on target. "We have actually seen some of these gains already with the Department of Defense project, but with the Honda project, we will prove this on a much larger scale," she explains. The company also plans to demonstrate that they can deploy a significant amount of solar onsite without having a major impact on the utility grid. "This would be the most cost-effective manner to install solar and run these loads, while providing higher reliability and performance," says Ravula.
Until the system design is complete, the full long-term effects of energy savings cannot be estimated. "For a typical building, we move some of the major loads to operate on DC," Ravula explains. "With our DC grid, we would cut 60 to 70 percent of the typical energy use for these loads. So if, for example, they were using 100 kilowatt-hours from the utility grid, now they would be using 30 to 40 kilowatt-hours."
DISSEMINATING THE TECHNOLOGY
Once the system is installed, Bosch plans to closely monitor and validate the technology for a 12-month period. Beyond that, they will provide training for installers and inspectors to help familiarize them on how to install DC grids in commercial buildings. "The installation and training, including manuals and documentation, will be part of what we develop with this project money, so we can actually commercialize the system once the project is done," says Ravula.
Saussele adds that, though the system is scalable, larger buildings are the current focus. "With the DC microgrid, we can use the energy from solar panels [and other] renewable sources 7 to 10 percent more efficiently than a state-of-the-art conventional AC system." The configuration is also more reliable.He explains that the ultimate goal of the demonstration will be to prove the technology before going to market. "We are starting with these large big-box-type buildings, but the system can be scaled to fit smaller buildings, as well." The system is designed to be retrofit. A lighSponsored by ting upgrade, for instance, provides the perfect opportunity to implement a DC microgrid, as it can utilize the existing wiring. Saussele adds that the technology is equally applicable to new construction.
---
Sponsored by Bosch LLC

---
© 2016, Green Builder Media. All rights reserved. This article is the exclusive property of Green Builder Media. If you would like to reprint this content, you are free to extract a short excerpt (no more than 1/4th of the total article), as long as you 1. credit the author, and 2. include a live link back to the original post on our site. Please contact a member of our editorial staff if you need more information.