Making charging technology simpler and more efficient—and educating builders about it—will help accelerate demand for electric vehicles.
Electric car sales are on the rise. A recent study by the Centre for Solar Energy and Hydrogen Research (ZSW) revealed that an additional 320,000 new electric vehicles (EVs) were registered across the globe in 2014, taking the total number of EVs on the road up to 740,000. The organization estimates that if the market continues to grow at their projected 76 percent rate, EVs will soon be in the garages of one million people. Bosch Automotive Service Solutions is working to help simplify the lives of these future electric car owners by pushing for EV charging stations to become a standard feature in new consumer homes.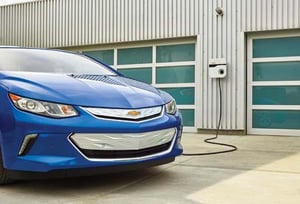 If current trends hold, builders who include electric vehicle charging stations in new homes will have an edge over builders who don't include them.
The division, which offers both products and services, has shifted its focus towards educating builders and contractors on EV trends and the future need for home-based charging stations. "Having a chance to work with builders is a great opportunity for both us as an infrastructure company and also for our consumers," says Meghan Chamberlain, account manager of EV Solutions, who has been implementing Bosch's recent builder teaching initiatives at places like the annual BOMA (Building Owners and Managers Association) Expo. "Making builders and contractors aware of the need for charging stations really helps the consumer once they get into the home."
Pay Now, Charge Later
According to the EV team at Bosch, installing a 240-volt charging station in a new house may save electric vehicle owners a significant amount of time and money down the line. In dwellings where garages are located above ground, for instance, the panel may be located in the basement. To install a charging station in such a setup would require a contractor to cut through a basement wall and ceiling. "Once they start going through drywall—or in the case where you have a detached garage, after your landscaping is done—installing a charging station becomes a much larger project than if it were included in the original build," says Chamberlain. "Getting it in earlier saves them a lot of time and benefits them greatly from a monetary perspective." And in addition to the logistics of wiring an EV charger through existing construction, some homeowners without built-in stations may find themselves with maxed-out electrical panels, which would then require a full-service upgrade.
It's Bosch's hope that going forward, EV charging stations will become an increasingly popular home amenity, like solar panels, which builders are beginning to include in many new developments. "I think it's somewhat a chicken-and-the-egg challenge right now. Depending on where they are based, builders don't necessarily see a lot of these [electric] vehicles," explains Chamberlain. "Someone in South Dakota might not see a lot of EVs, and so might be less inclined to include a charging station. We're hoping that through this general education, and as more consumers start buying EVs and builders start seeing those vehicles, they really understand why this is an advantage for them. It truly can be competitive for those builders who incorporate charging stations into new homes."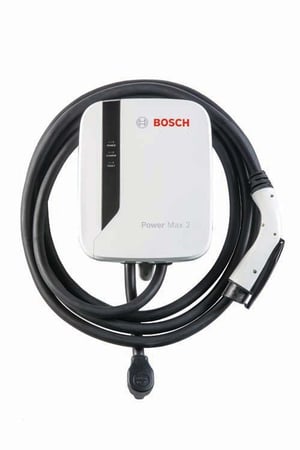 The new Bosch Power Max 2 will include a 40-amp variant, which will mean faster charging for the EVs that can accommodate 40 amps.
Rising Sales, Rising Efficiencies
As EV sales increase, the market has shifted its focus on finding ways to make the vehicles more efficient. New initiatives are being crafted, such as faster charging systems. One such product is Bosch's new Power Max 2, which the company is gearing up to launch in the fall of 2015. "This is going to be the follow up to the original Power Max, which at the time it was introduced was the highest-value level 2 charging station on the market," explains Chamberlain. According to Bosch, the Power Max is currently one of the most highly rated and top-selling EV charging stations on Amazon. The forthcoming follow-up edition will include many unique advantages. "It has a 40-amp variant, so it's going to be much faster than the current Power Max, which is either 16 or 30 amp," says Chamberlain. EVs that can charge with the 40-amp variant, such as the Mercedes-Benz B-Class, will be able to take full advantage of the new Bosch offering. Power Max 2 is slated to also be smaller but just as efficient as its predecessor; it also contains an on/off button (to ensure energy efficiency) and can be easier to install than other EV chargers on the market. Rather than needing to be hard-wired, "it actually comes with a plug, so it simply can be plugged into a receptacle," explains Chamberlain. "As long as the builder has put that outlet in, the customer literally just takes the Power Max 2 out of the box and plugs it into the outlet."
Fast, Faster, Fastest
From a commercial perspective, the next frontier of charging is DC fast charging. According to Chamberlain, a DC fast charger is 480 volts and puts a direct current into a battery in lieu of utilizing an on-board charger. "To give an idea of what that means from a charging time, we'll use a BMW i3 as an example. If you plug it into an ordinary 110-volt outlet, it's going to take about 24 hours. If you use a level 2 charging station, it's going to take three and a half hours, and if you plug it into a DC fast charger, it's going to take about 30 minutes," she explains. Bosch has been working with general contractors for commercial spaces such as car dealerships to integrate such technology, including the Bosch Power DC Plus, into new developments. Bosch has also joined forces with ChargePoint to increase the number of public charging stations in the ChargePoint network. Efforts include making the Bosch Power DC Plus station ChargePoint-enabled, which allows property owners to monetize the stations.
Connecting the Dots
Bosch estimates that the amount of EV drivers will continue to rise as more models are released and word of mouth spreads about the benefits of driving electric cars. But everything, says Chamberlain, comes down to educating the car-driving consumer. "There is this misconception that EVs are slow, and therefore couldn't be fun. But they are definitely fun to drive!" she says. "And I think the second biggest misconception is range. The average American drives less than 40 miles per day, making them ideal candidates for either a plug-in hybrid like a [Chevy] Volt or a pure battery electric like an i3. With a pure battery electric, if you're driving less than 40 miles a day, you're never even going to deplete half of your battery. Those are the two biggest things I often hear, and on which we always try to educate."
---
© 2016, Green Builder Media. All rights reserved. This article is the exclusive property of Green Builder Media. If you would like to reprint this content, you are free to extract a short excerpt (no more than 1/4th of the total article), as long as you 1. credit the author, and 2. include a live link back to the original post on our site. Please contact a member of our editorial staff if you need more information.