NAHB-IBS 2019 offered key lessons in healthy home design and construction. Are you listening?
During the 2019 NAHB-International Builders Show (IBS) in Las Vegas, one key discussion addressed the issue of the health of home occupants, and the related residential design and construction. Human health in homes is becoming a major concern globally as more people discover that the source of an illness may be in their home.
This meeting was hosted by Bill Hayward of Hayward SCORE and was co-hosted by Jillian Cooke (Wellness Within Your Walls), Robert August (North Star Synergies), Karla Butterfield (Steven Winter & Associates) and Jaclyn Toole (assistant vice president, NAHB Green & Sustainable).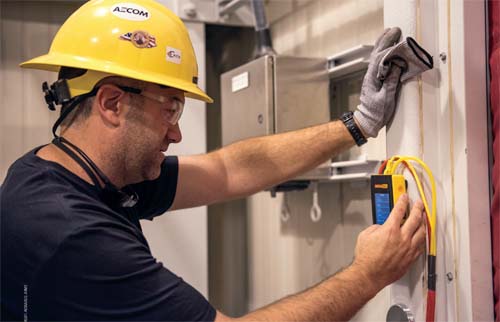 Included in the discussion was the challenge of introducing improvement into home construction: "Contractors pushing" ideas and improvements into residential design; "homeowners pulling" (requesting or desiring) that homes be designed to address and reduce environmental health issues; the increase of government regulations to require improvements; and the benefits and tradeoff of each.
"Design" is often thought of as only the visible, aesthetic aspects of a home. But a true green home, or a "Healthy Green Home," means the design and construction includes all systems that will affect occupants' lives. It also can include understanding how to achieve well-coordinated systems, and the relative costs of how this is to be achieved in construction with value engineering considerations.
Green Teamwork Matters
The day after this Monday evening meeting, there was an official NAHB-IBS panel presentation and discussion, "Healthier Homes: How to Cost-Effectively Deliver Buyers' Must-Have Features," which emphasized how construction of a healthy home benefits from a team approach to the issues, the understanding of what's at stake, and the perspective and experience of each of the team members: designers, homeowners and builders.
Issues such as air quality and water quality, materials and products, mechanical systems and acoustics all play a role in home and health-related issues. Balancing the elements of aesthetics, construction costs and features is an ongoing challenge in residential markets. We can also anticipate the future government requirements and regulations that will increase the level of how homes address health concerns, as well as possible testing requirements prior to the sale of a house. These will be additional pressures on successfully integrating "Healthy" into "Green Homebuilding" for us all.
The elements involved in "Healthy" homes are compatible with Green Homebuilding and in fact, the combination can create the best homes. But it does take increased understanding and appreciation on the part of designers, builders and homeowners.
You Are What You Breathe
There is overwhelming evidence that people's health in their home is directly affected by a wide range of materials, and the systems designed and built into homes. The quality of the air that occupants breathe, the water that they drink, and all of the environmental elements in and around each home play important roles in how homeowners feel while living in the homes that are now being designed and created. Achieving each requirement set for healthy home design may become a regular part of preparing a house for sale.
Some of the illnesses and health problems that people are experiencing in their current homes are a direct result of design problems and the selection of products and materials. If these are corrected, people's health could improve—especially if the source of their illnesses are removed.
In a remodeling, addition or new home, many of the choices made about home design and construction are often done without the homeowner's involvement. As a result, they may be unaware of the ramifications of these decisions. When possible, homeowner involvement and participation with health issues should be the beginning of the design process. Helping them determine what they want to actively support and how they can participate in regards to the design decisions—and better understand the ramifications relative to a new healthy home—will be important for all.
Some Home Design Resources
Much has been learned about how to create a Healthy Home Design in recent years. Some specific ways to address issues related to health in homes exist now that did not exist a few years ago. Other ideas have been around for years, but not everyone is familiar with them. If you are planning a new home project or major remodel or addition, there are things you can be taking into consideration.
Here are two resources for both you and your clients to consider:
Hayward SCORE
Hayward has created the Hayward SCORE, a helpful survey you and your clients can use to identify the environmental issues for consideration in your home projects.
Hayward is dedicated to helping everyone understand the home environment: He and his family lived in a house that caused much illness. Hayward's family story is also included on Hayward SCORE's website (www.haywardscore.com).
Measuring your environment: test kits
To determine what your environment is like, measure it.
Fortunately a number of test kits are becoming available for this purpose.
Knowing the environmental conditions of your specific site is an early step in addressing any home health issues. Taking crucial steps in residential design and construction could result in occupants living 10-20 years longer.
The list of issues to address grows as more is understood—water quality, volatile organic compounds (VOCs), humidity and mold, and Internet of Things (IoT) for health in the home, are just a few. We'll continue presenting resources to you as this field develops.
It's time to consider building Healthy Green Homes. A good direction for us all.
---
Terry Beaubois is an architect in Palo Alto, Calif. He is CEO of Building Knowledge Systems (BKS) LLC (www.bksco.com), and an adjunct lecturer at Stanford University.