With the weather turning warmer and plants and grasses in bloom, allergy season is in full misery mode.
While many consumers rush to their medicine cabinets looking for allergy medications to fight teary eyes and stuffy noses, there are ways to prevent these symptoms before they begin.
Maintaining a home's indoor air quality might seem like common sense but isn't always simple. For example, external factors like the weather, pets, as well as living in an area where poor Air Quality Index is common, jeopardizes a home's indoor air quality. EPA says indoor air quality can be 5x worse than outdoor air quality. Additionally, older HVAC systems, dirty ducts and dirty filters can allow dust particles to fly into the living spaces to be inhaled by your family.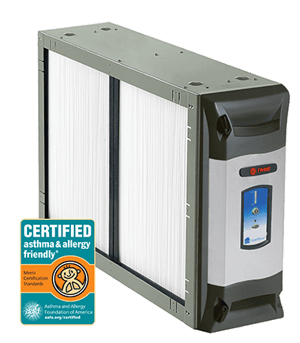 With spring and summer finally here, the below tips can help you and your family maintain a healthy level of indoor air quality throughout the season:
Keep your home as clean, as possible: Easier said than done in today's busy world, but a cleaner home can cut down on the amount of allergens in it. For example, regular vacuuming of carpets and area rugs once or twice a week will remove pollen, pet dander and dust.
Install a allergy rated filter or a whole-house air cleaner: Add an allergy filter or an air cleaning system, can help remove airborne particles and allergens too small for your nose and mouth to filter naturally. Trane's CleanEffects air cleaner can remove up to 99.98 percent of airborne particles including dust, pollen, pet hair and dander, dust mites, mildew, lint, fungus, most tobacco smoke, cooking grease, and even bacteria. Certified as Asthma & allergy friendly™ by the Asthma and Allergy Foundation of America, CleanEffects is 8 times more effective than a HEPA filter and 100 times more effective than the typical 1-inch HVAC filter.
Change or clean your air filter on a regular basis: It's important to keep your HVAC filter clean, whether you are using a 1-inch traditional air filter or a washable whole home filter. Traditional filters should be changed every 30-90 days – more frequently if you have a home with a lot of pets or in a dusty climate. A whole home air cleaner like the Trane CleanEffects needs to have its filter vacuumed or rinsed every 3-6 months, also taking into account the amount of possible irritants within the home.
Fight mold growth – Since damp spaces are susceptible to mold growth, it's important to control the moisture levels in your home. Consider adding a dehumidifier to damp areas; make sure bathrooms are well ventilated; and disinfect surfaces that are prone mold growth.
Consider cleaning your air ducts: The Environmental Protection Agency recommends cleaning ducts for three specific reasons –

Visible mold is growing on the ducts or other components of your HVAC system;
They have been inhabited by rodents or insects; or
They are clogged with dust or debris (a potential outcome in home renovations.)