A study published last year says IAQ is an important predictor of health, especially among low-income residents. The study found green apartments healthier than conventional ones.
Over the course of two years, the Harvard School of Public Health conducted and sampled environments and studied the results of home inspections and health questionnaires done with families in green and conventional (control) apartments in two public housing developments.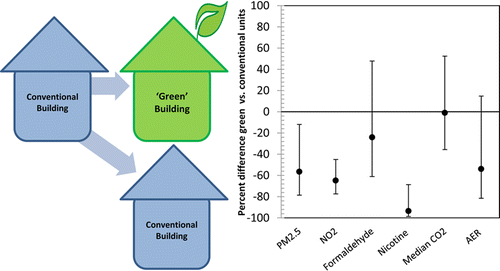 Some of those surveyed moved from conventional to green housing and vice versa during the study. This allowed researchers to not only compare household types but also the changes that took place when residents moved from one type of housing to the other.
Researchers measured "particulate matter less than 2.5 μm aerodynamic diameter." They also measured formaldehyde, nitrogen dioxide (NO2), nicotine, carbon dioxide (CO2) and air exchange rates (AER) over a seven-day sampling period in each of the two years. They found the studied green apartments had 57 percent fewer particulates, 65 percent less nitrogen dioxide and a rather stunning 93 percent lower concentration of nicotine. Green homes also had fewer reports of mold, pests and stuffiness (typically a sign of inadequate ventilation). Differences in formaldehyde and carbon dioxide were not statistically significant. Though healthier, green homes had measurably lower air exchange rates than conventional ones.
It was not surprising to me that differences in formaldehyde and carbon dioxide were not statistically significant. Formaldehyde is in furnishings and cleaning products that may not have varied from one home to another, especially among those who moved. We don't know how old the conventional homes were, but formaldehyde outgases over time. It is also unclear what the habits of residents are. For example, households with those who smoke indoors would have different amounts of nicotine in the air and adhered to surfaces.
Those living in green homes, researchers found, "experienced 47% fewer sick building syndrome symptoms." They also noticed that study participants who did have health concerns had "improved health outcomes" when they lived in green apartments, "suggesting multilevel housing interventions have the potential to improve long-term resident health."
Link to Environmental Science and Technology.