Healthy Homes, Healthy Buildings
What we can't see and don't know can hurt us—and our clients.
The topic of healthy homes and buildings has been around for a while, but the awareness of the problem and what to do about it is being raised to a higher level with recent findings.
Having a healthy home environment is a core element for every member of the building industry—architects designing homes for people; builders building homes; and family members concerned about their family's health. This is an area that has been a career-long interest of mine. In the past, it was more of a background issue, but over time, research shows this to be increasingly important as we gain a better understanding and additional knowledge of the issues related to air quality.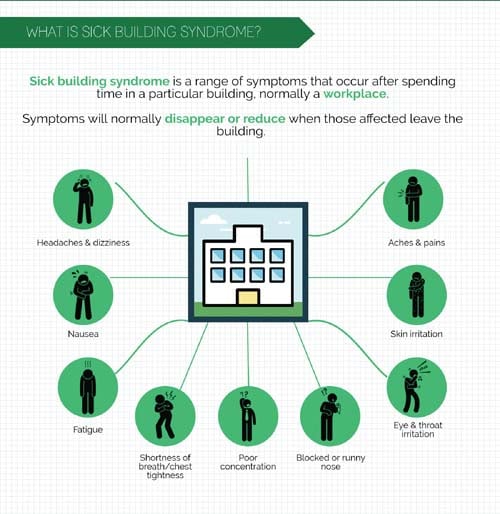 A healthy home is not an impossible goal to achieve, but it does not occur by accident. It requires knowledge of what to do and how to do it. While it may not seem to be the highest priority during the planning and design of a house, it can turn out to be one of the most important aspects of that house in the long run. "Healthy" is a term that should be included in any Green Building or SMART Home.
During the 1970s, the interest and importance of indoor air quality in buildings accelerated when the challenge of "leaky buildings" was addressed. We began to seal buildings better—around windows, doors and wall penetrations (electrical outlets, ducts, etc.)­—to reduce the air leaking in and out of buildings, and reduce wasting of energy.
But when a new government building in Sacramento, Calif., was sealed tight, we learned that internal components such as carpet and plywood were "outgassing" formaldehyde, a gas that is detrimental to human health when allowed to remain in the building. If that building is "leaky," the gas could slowly escape. But because this structure was "sealed," there was an unintended consequence: Everyone was going home "sick." This later became known as "Sick Building Syndrome." As a result, the study of building materials was increased to identify and help eliminate unhealthy components.
A Lesson From Space?
Around the same time, in late 1977, I became involved with NASA research. A space station was a hot topic, and the idea of people living in space became a new research area. I liked NASA's "mission critical" approach to planning and design of the station, including the quality of the air that people would breathe. I felt that the research around the space station would also create information of interest and value for buildings on Earth. The research, and design-implementation of that research, were elevated to the highest level possible by NASA. This is a level of concern that the building industry shares.
In 2007 to 2010 I led a team at Montana State University on an award-winning ecoSMART Home project. We were able to identify and address a number of issues relative to air quality (temperature, humidity and pollution) and would learn more as we implemented what we knew and understood at that time.
Because our design included mechanical heating, ventilating and air conditioning (HVAC), we were able to work directly with the equipment manufacturer. We custom designed a system to fully address issues that are not typically covered in an average home design and construction project. Special air filters, fresh air circulation, heat recovery ventilation (HRV), heat exchangers, air exchangers and air-to-air heat exchangers were all studied by the mechanical manufacturer and the mechanical engineering students. We were also able to use technology that had been developed by NASA in our windows.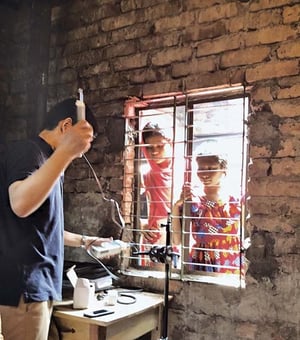 This April, I was invited to join a team of researchers at Stanford Medical School who, along with Bangladesh research partner organization, the icddr,b, were already investigating the effects of ventilation on the health of residents of slum neighborhoods in Dhaka. The locations being studied have some of the highest incidences of childhood and adult pulmonary (lung) disease. The team's goal was to figure out how to increase the ventilation of residences in these areas and to see if doing so could reduce the level of disease.
The focus was on "natural ventilation"—window design, vent design, skylight design and non-mechanical solutions—because the people living in these areas do not have consistent access to electricity and do not have mechanical air conditioning, heating or mechanical ventilating of these buildings or homes.
During my preliminary research, I was reminded about the issue of radon in homes in the U.S. and began to explore whether the chemical element could be a contributing factor in the Dhaka locations. What I found was remarkable: The World Health Organization (WHO) and the U.S. Environmental Protection Agency (EPA) state that the presence of radon gas in a home environment may increase the negative effect of other air pollutants, and increase the incidence of lung disease by a factor of 10 to 100 times. Both groups have recently ranked radon as the second-leading cause of lung cancer globally, after smoking cigarettes.
A Hard Reality
Upon returning from Bangladesh, I did some research into the awareness level in the U.S. of radon and air quality, and found that there is still not a high level of knowledge and understanding about the issues of air quality in buildings throughout the residential building industry. But it appears these issues are as important throughout the U.S. as they are in Bangladesh.
Today, the building industry is faced with the reality that research proves that air quality is a dire problem. Whether it's within a Bangladesh slum or a U.S. suburb, people are dying due to building air quality issues. In 2017 in the U.S. alone, 21,000 deaths were attributed to radon exposure. Long-term exposure to this and other lethal elements in a building, that are invisible but can be detected with the right devices, may shorten a person's life span by 10 to 20 years if gone unaddressed.
Recently, I met with a NASA astrophysicist who is working on this same issue, studying the effects of radiation on commercial airline pilots and crews who travel frequently and for long periods of time at high altitude, as well as astronauts on the existing International Space Station (ISS). We discussed coordinating our research in the future to fully address radiation exposure on humans, whether in the ISS or in their homes. So, again, NASA and the space station are in the scope of my building industry interests.
In addition, I have been in touch with a member of the building industry whose entire family had health issues that were traced to air quality and Sick Building Syndrome. His interests now include getting the word out about how to effectively address these issues during the design and construction period. I will report about this work in a future article.
---
Terry Beaubois is an architect in Palo Alto, Calif. He is CEO of the internet startup BKS (Building Knowledge Systems) LLC, and an adjunct lecturer at Stanford University.
This is the fifth in a series of articles about the increasing interest in—and necessity for—smart homes, villages, cities and communities globally, and how they relate to green building in the U.S.