A 60 Minutes report has re-awakened public awareness about formaldehyde health risks. Here's an update on where the building industry now stands on formaldehyde in products.
It was the March 1 60 Minutes television exposé about alleged outgassing of formaldehyde in Chinese-made laminate (aka composite) floor products sold by Lumber Liquidators that reminded us all that formaldehyde is still a threat to indoor air quality. The late 1970s was the first formaldehyde scare, and it resulted in sharp declines in formadehyde levels in building products and pretty much the elimination of the worst cuprit of time urea-formaldehyde foam insulation (UFFI).
Ubiquitous Menace
Formaldehyde is a naturally-occurring substance and ubiquitous, according to the Consumer Product Safety Commission (CPSC), so there is no way to get away from it entirely. California has the strictest standards with regard to formaldehyde; on March 5th, it issued an update with regard to composite flooring.
It seems like a good time to check out Lumber Liquidators response to 60 Minutes, to visit the Consumer Product Safety Commission (CPSC) report on formaldehyde and to check out California's standards. Anyone buying a product that might contain formaldehyde should research the specific product for content. Most green products prominently list ingredients and say, if appropriate, that they are formaldehyde free. Also look for products certified for sale in California.
If you already have products that you think might be causing a problem there are tests that you can do, some of which are free and others that cost money.
The free test involves taking a sample of the potential offending product, placing it in a jar, setting it in the sun all day, and then opening the jar. If putting the jar up to your face, makes your eyes water and smells really bad, it may be time for the tests that cost money. At the end of the article, there is a link to testing kits. Here is an example of one from InspectApedia's Web site.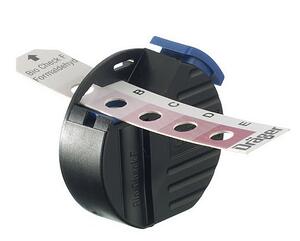 Formaldehyde at Home
Lifestyle along with building products, may introduce formaldehyde into homes. Tobacco smoke figures prominently on the list. So first, don't smoke, and if you do smoke, don't smoke inside your home. Dry cleaning and the use of permanent-press fabrics are concerns with formaldehyde. It is hard not to buy permanent press. Look for dry cleaners that advertise green products or else hang clothing outside for a while to outgas. (An affordable formaldehyde detector is shown.)
Thursday, March 12, Lumber Liquidators shared its response regarding the formaldehyde allegations AND offered to pay for indoor air quality (IAQ) testing from a third-vendor to concerned customers. It is clear from the chart below that concerns about formaldehyde and their elimination from building products has been growing world wide since 2010.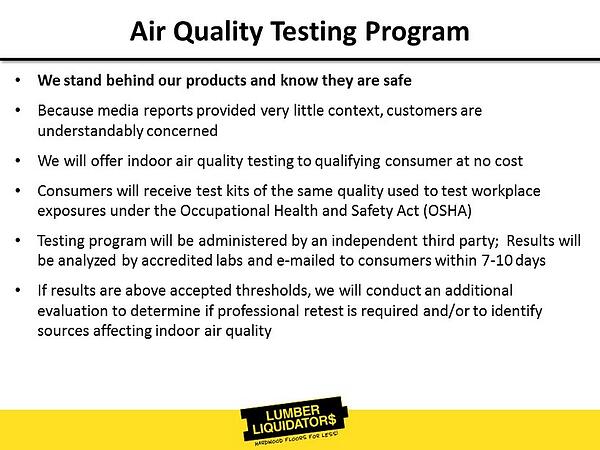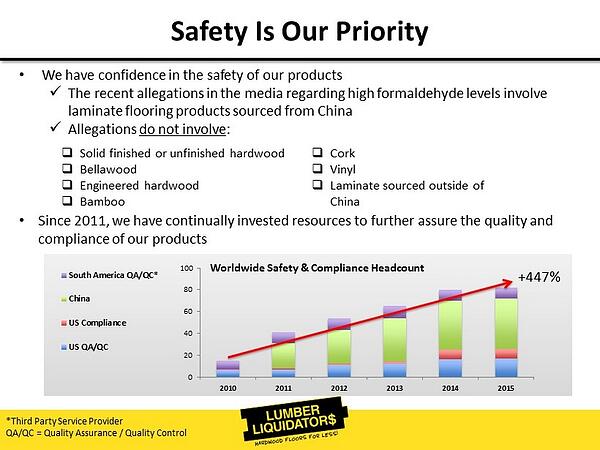 First Formaldehyde Freak Out
The initial examination of formaldehyde as an indoor air pollutant revealed that it was in more places than that era's UFFI insulation. Researchers discovered that manufactured homes had surprisingly high levels of formaldehyde and that much new furniture and many household products outgassed formaldehyde. Formaldehyde was and, in some places, is a component of many adhesives. The attention brought reform in the U.S., especially California.
Thirty-five years ago, lenders freaked out when formaldehyde first became an issue. In efforts to tighten up drafty homes, many people had filled exterior wall cavities and roofs with UFFI. Lenders were worried that the homes might have to be demolished. Fortunately, there were some easier methods to undo future ill effects of formaldehyde exposure. Some material, especially in ceilings cavities was easy to remove. Where the UFFI had been sprayed into exterior walls, mitigation included sealing the interior side of the walls (though at the time their were no low or no VOC paints) and venting the exterior side. Indoor air quality tests following these mitigations showed acceptable formaldehyde levels.

The chart below from Open Market Org is a search of literature that measured formaldehyde levels. The 1985 studies showed much higher levels than those from 2005. Even 1985 was years after the original formaldehyde scare, so levels may have been higher in the 1970s.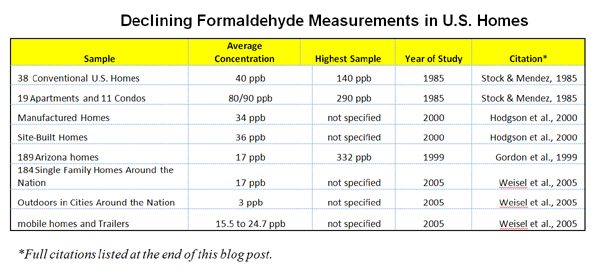 Eye and Lung Irritation
In sensitive people (and not everyone is immediately sensitive) formaldehyde exposure causes burning eyes and respiratory irritation. High levels of exposure are linked to some forms of cancer and asthma. Children are more vulnerable than adults.
Reducing Formaldehyde
The CPSC research also showed that formaldehyde outgassing is not forever; typically, it takes five years for formaldehyde to outgas. And there are techniques for sealing offending surfaces. The CPSC says to seal such surfaces with any product that does not contain formaldehyde -- no VOC products fill the bill.
Today, UFFI for home insulation is gone; foam sprayed in wall cavities and ceiling has no and does not outgas formaldehyde. Though there are products sold that outgas formaldehyde, there are also products available that do not. Look for solid wood for example rather than products made with particle-board or MDF. Some manufacturers of particle-board or MDF use glues that do not contain formaldehyde; others bake or otherwise heat treat and ventilate products to outgas any pollutants.
After the big flap in the 1970s, formaldehyde was not much discussed, except among the healthy house set. In the last decade, interest in green and healthy building products has re-awakened interest in formaldehyde. Another way to choose these healthy products is to look for green products in major retailers (these days almost all retailers have a green section) and to shop at places like Originate, that we wrote about a few weeks ago, that specialize in healthy building products.
California has the strictest formaldehyde standards, so, as we already mentioned, look for products eligible for sale in California. This year those standards will be adopted nationwide.
CPSC Formaldehyde Update
So, what does the Consumer Product Safety Commission (CPSC) have to say about formaldehyde? In an update published January 2013, CPSC, said, "Formaldehyde is a colorless, reactive, strong-smelling gas at room temperature. It is one chemical in a large family of chemical compounds called volatile organic compounds (VOCs). The term volatile means that the compounds vaporize or become a gas at room temperature. Formaldehyde can be manufactured as a liquid (formalin) or a solid (paraformaldehyde). Formaldehyde is an important industrial chemical used to make other chemicals and different types of products, such as: home furnishings, household cleaners, paints, textiles, landscape and yard products, medicinal and personal care products, and pesticides."

Formaldehyde is ubiquitous. Automobiles, cigarettes and burning wood, kerosene or natural gas, all release formaldehyde. Ozone levels, hot temperatures and humidity may make formaldehyde outgassing higher, CPSC reports.

The report recommends that consumers check all products and avoid those containing formaldehyde. It also says ventilation aids outgassing. Some products can be sealed with no VOC products. The report also has suggestions for measuring IAQ to see if there is a problem.

The entire 12-page report from the Consumer Products Safety Commission Update on Formaldehyde published in January 2013.

The California standards regarding formaldehyde.

California's composite flooring standard.

Link to InspectAPedia information about formaldehyde testing.

Link to Lumber Liquidators presentation from March 12, 2015, discusses the IAQ testing to made available to concerned customers.

Link to Anderson Cooper's 60 Minutes report on Lumber Liquidators.

Lumber Liquidators YouTube video.