Here's how to protect your team from hazardous material during construction.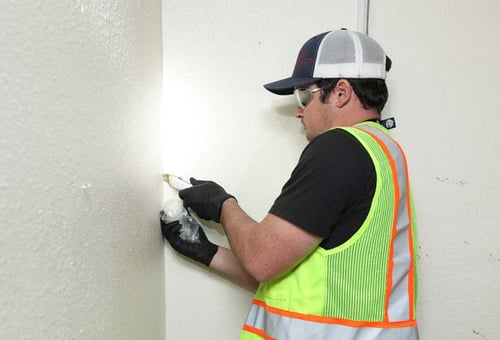 It shouldn't come as a surprise that thousands of builders each year suffer from work-related skin or lung issues. One in every 20 were poisoned, according to the U.S. Department of Labor. And this doesn't include all the thousands of employees who didn't report anything. The Bureau of Labor Statistics estimates that nearly 70 percent of injuries and illnesses never make it onto paper.
The obvious culprits are hazardous substances—vapor, gas, dust or fumes. Unfortunately, these substances are in abundance across most project sites in the construction industry, and it is imperative the greatest of care is taken to limit any harmful effects on employees.
Manufacturers of hazardous materials are obliged to issue safety fact sheets detailing the characteristics and dangers of their products. While this info is often included with the initial purchase of the materials, these data sheets can also be specifically requested directly. Furthermore, additional information is available at public institutions, such as the Occupational Safety and Health Administration or the National Institute for Occupational Safety and Health.
Here's a closer look at the dangers of hazardous waste to a builder's team, as well as how these dangers can be prevented.
Asbestos
Asbestos exposure has been proven to cause cancer of the lung or stomach, as well as mesothelioma, which attacks the membranes protecting the lungs. However, diseases linked to asbestos exposure typically do not exhibit symptoms until decades after the actual exposure.
Quite clearly, asbestos prevention is a priority for any building team, and the following steps toward maintaining a safe environment should be followed:
Monitor the air in areas of particular risk such as within older buildings.
Keep detailed records.
Regularly assess any potential asbestos risks and ensure the team is well educated on the dangers and signs of asbestos.
Offer respiratory protection and emphasize better work practices to reduce chance of exposure.
Dust
As you'd expect, this is one of the most abundant materials on construction sites—and it's also one of the most hazardous. Furthermore, when in large quantities, it affects entire communities.
If inhaled repeatedly, dust can cause lung diseases in the long term, but it can also have immediate detrimental effects. Silica dust, for example, is generated by grinding or cutting concrete and mortar and can become deeply lodged in the lungs if inhaled. This can lead to silicosis, asthma and even lung cancer.
Wood, drywall and limestone are comparatively less toxic than concrete dust, although they affect airways and ultimately lungs after prolonged exposure.
The only way to truly limit the dangers of dust inhalation is through controlling your workspace, such as only working with damp materials where possible or using a vacuum truck to sweep up any hazardous materials. Off-road conditions may require multi-wheel drives, so be specific and risk-averse when choosing your vacuum truck.
If neither of the above is available to you, be sure to never work in an enclosed space where the dust can build up quickly and unnoticeably.
Mold
Mold is another common occurrence in construction with sinister effects for builders. Mold can be expected in any damp building where moisture has been trapped and contributes to asthma and other breathing problems. What's more, if a worker is exposed to mold over an extended period, these respiratory problems develop into potentially fatal diseases.
The main source of protection against mold-related health problems is through protective gloves, goggles and respirators.
Solvents
Be in it paint, adhesives or cleaning liquids, solvents are harmful to the lungs and skin. The danger originates from the fact that solvents affect brain and nerve function when in contact with skin or internal organs through inhalation. This can even lead to cancer, blindness, kidney damage and death.
Given the serious risks, extra precaution need be taken to prevent all contact with skin. In addition, solvents should only be worked with in a well-ventilated and open space. If there has been contact with skin, wash the area thoroughly.
Well-known signs of solvent exposure include stomach pain, nausea, cracked skin, throat irritation and dizziness. If in doubt, medical assistance should be sought out immediately.
Hazardous materials are naturally part of construction life. Extreme caution should be taken to protect yourself, colleagues and employees to ensure any detrimental effects on health is limited. Information from the manufacturer's data sheet or a public source should be shared and understood, and control tactics should be implemented.
---
Megan Wild is a freelance writer with an extensive history of writing for the residential and commercial green building industries.