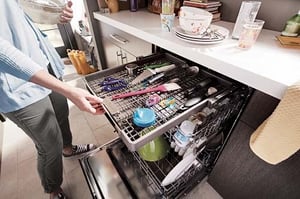 The Whirlpool Smart Energy Star Certified Dishwasher with Third Level Rack and its mobile phone-based Download & Go option provides users with customized cycles to wash the way they want. Whether in the car or the living room, a user can select a cycle based on the type of cleaning needed.
The unit's Sensor cycle detect soils in a load to select the right wash and dry settings, and use only the amount of water and energy needed. The Third Level Rack enables users to load more dishes and hard-to-fit items, and use its TotalCoverage Spray Arm to target dishes using more than 20 jets. Other cycles, such as Plastic Items and Canning & Brewing Items, clean even the dirtiest of dishes or the most niche of items.
As another energy and water saver, a 1-Hour Wash cycle cleans dishes in half the time, enabling plates, pans and glasses to be thoroughly cleaned in just an hour.
Whirlpool's mobile app works with Nest, allowing users to delay the dishwasher from starting until they are away. Or, they can use the app and Amazon Dash Replenishment to automatically reorder dishwashing supplies when they're running low.