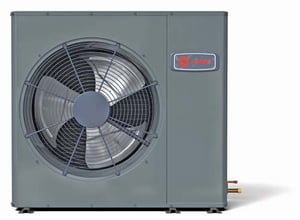 Life in the "Big City" just got less expensive, quieter and greener—at least where heat pumps are concerned. The Trane XV19 Variable Speed Low Profile Heat Pump is designed for markets in larger metropolitan areas with strict noise ordinances, such as in the northwest, where many large cities have maximum sound levels of 55 dB(A) during the daytime and 45 dB(A) at night. XV19's operating sound levels are 43 to 57 dB(A), which makes them perfect for keeping things quiet when the unit is located in close proximity to living spaces.
This heat pump complies with zero lot line applications, structures that come to the property edge, has lower sound levels and the lowest annual operating costs to date for Trane ducted split systems on the market. With efficiencies up to 19.5 SEER (Seasonal Energy Efficiency Ratio) and 11.5 HSPF (Heating Seasonal Performance Factor) these are one of the quietest residential split systems and the most-efficient heat pumps available. The new heat pumps exceed Energy Star most efficient criteria of 18 SEER, 12.5 EER (Energy Efficiency Ratio) and 9.6 HSPF.
XV19 can reduce annual electric energy usage and save up to hundreds of dollars annually compared to minimum efficiency single-stage heat pumps. Available in 2- to 5-ton sizes with the ability to operate at 500 speeds, these systems give residents efficient, affordable and reliable comfort. Integrated diagnostics and connected controls also provide homeowners with 24-hour access to monitor or control the comfort system while at home or away.