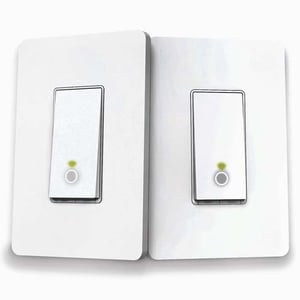 Replacing three-way switches for a smarter, greener lifestyle throughout the house is as simple as snapping fingers—or picking up a smart phone. TP-Link's Smart Light Switch 3-Way Kit makes knowledge of wiring or auxiliary switch configurations optional for the average homeowner.
The Smart Light Switch 3-Way Kit provides smart lighting control from two locations, making it ideal for living rooms, halls and stairways. Doing so is easy: Simply replicate the wiring from old switches and the 3-Way Kit takes care of the rest. The accompanying Kasa app on an iOS or Android system guides the user through installation and connection to a home Wi-Fi network.
Once connected, the Smart Light Switch kit can be conveniently controlled from anywhere using Kasa. The system also easily connects to Amazon Echo or Google Assistant voice tools for convenient hands-free control. Smart plugs and smart bulbs can also be control with a tap on a touchscreen.
Users may also check on lights remotely on their phones, create schedules, set timers and countdowns, and activate an Away Mode to switch lights on at different times.